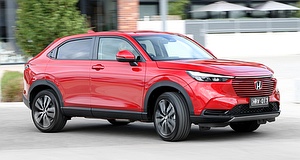 HONDA Australia says a move upmarket will impact sales of its popular small SUV by as much as 50 per cent as the new HR-V follows the example of its Civic sibling by offering a streamlined – and more premium – line-up.
Compared with its predecessor, the all-new HR-V, which was launched in Australia this week, is available in two – instead of four trim grades and its higher specification levels reflect in its variants' loftier list prices.
Speaking to GoAuto at the launch of the second-generation HR-V this week, Honda Australia chief operating officer of automotive, Stephen Collins, said the brand would continue to offer quality over quantity and focus on the customer-centric business model it debuted just over 10 months ago.
"We're really pleased where we're at with the business. It has been nine or 10 months since we moved into the agency model, and although we had a few months of transition – which coincided with the tougher side of lockdown – things are progressing well and will continue to progress as our product line-up is regenerated over the next 12-18 months," Mr Collins said.
"The Civic and HR-V were the first examples of that (regeneration) and, as an established player in the small SUV market, the HR-V is for us an important model – and one that will help to stabilise the (agency) business model generally."
Mr Collins said the addition of further hybrid variants, alongside an all-new Civic Type R sports hatch and completely new SUV offering (due to arrive early in 2023), will further drive Honda Australia's push upmarket, despite its admittedly lower sales projections.
"The HR-V will be joined shortly by the Civic Hybrid, which will come through in the second half of the year and help to fulfil our commitment that all models will come with petrol and hybrid variants. That will be followed by the Civic Type R (due to be launched overseas in the second half of 2022) – it will be first off the rank in Australia in 2023," Mr Collins added.
"But importantly, we'll also see a new SUV enter the line-up; a model that will sit between the HR-V and CR-V, and that vehicle will give us a very competitive SUV stable… It's a big part of our strategy going forward… we should see it within the next 12 months.
"We're confident the new SUV will suit different customer needs. The HR-V is very popular with female buyers, and younger buyers, so we think that the new model will fit in between the HR-V and CR-V and suit family-type buyers.
"And, of course, the SUV will continue to attract those kinds of buyers, in particular family buyers who are looking for something a little larger," Mr Collins added.
Honda Australia has sold over 70,000 examples of the HR-V since the model went on sale back in 2015. The new-generation model is priced from $36,700 drive-away for the 1.5-litre petrol-powered Vi X, with the hybridised e:HEV L selling from $45,000 drive-away.
The outgoing HR-V range was priced from between $31,300 and $41,000 (plus on-road costs).
Mr Collins said the move upmarket, and the associated price rise, would slow the uptake of the HR-V moving forward, but Honda Australia expected 5000 units to be sold over the first 12 months, with the majority of buyers expected to opt for petrol-only power.
"The repositioning (of the HR-V), and some supply constraints around semiconductors, mean that the 5000 number is what we're planning for.
"It's early days, but we think the split between petrol and hybrid will be around 35 per cent hybrid and 65 per cent petrol. That ratio will increase in favour of the hybrid over time.
"Toyota, for example, have shown that if you get the marketing around hybrid right, and have the product to match, that over time the popularity of hybrid will grow, and in metropolitan areas, already, the interest in hybrid (HR-V) models is particularly strong."
---