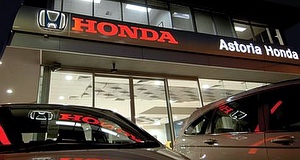 HONDA Australia says that after a brief transitional period, its dealerships have adapted fully to the agency sales model and are benefitting from better-than-forecast sales of the brand's newly released, single-grade Civic VTi-LX hatch.
Speaking to GoAuto at the launch of the second-generation HR-V small SUV this week, Honda Australia chief operating officer of automotive, Stephen Collins, said that although sales volumes were substantially lower under the recently adopted agency model, sales of the Civic model have been better than anticipated.
"(The Civic) is tracking at just under 100 units per month and, at the moment, that's less a reflection of demand in the market and more a reflection of supply. The Civic is a little above where we expected it to be, and of course it's playing a different role to what it has in the past," said Mr Collins.
"But, looking forward, the SUV stable will become the core part of our business over the next year or two. I believe it will end up being close to 90 per cent of the volume we sell locally, from that staple of three SUV models."
At the launch of Civic small hatchback late last year, Mr Collins said the model would likely sell 900 units annually in Australia (75 units per calendar month).
With average numbers running at closer to 100 units per month, buyers seem attracted to the Civic's higher equipment levels – even if at a higher price point – a point Mr Collins said bodes well for other new models, including the similarly highly-spec HR-V.
"There are a lot of existing Civic customers, the loyal Civic buyer who has probably owned numerous generations of the model, particularly top-spec variants, moving into the new car. We call these buyers 100 per cent Honda: Honda-to-Honda buyers – and they make up a large proportion of new-generation Civic buyers," he added.
"But that's not to say we're not conquering sales from other brands. There is a percentage of buyers coming from European hatches to the Civic, and pleasingly, that is very much as we expected."
Mr Collins said that the majority of buyers who had purchased vehicles from Honda since the agency model was instituted throughout the dealer network were pleased with the transparency around price and the ease of the transaction on the dealership floor, but admitted that not everyone liked the 'one-price' model.
"We knew that the one-price model was not for everyone – there are some buyers who still want to 'chase a deal', and that remains true today. But what we do know, based on extensive feedback, is that transparency on price and the ease of transaction add up to a really positive experience for buyers who've purchased a Honda over the last nine or 10 months," he added.
"We said we wanted to do around 20,000 units (annually), and if you look at the number of contracts we've written over the last few months, then we're definitely at that pace. Profit is obviously determined somewhat by supply costs, but overall, it's fair to say we've landed exactly where we thought we would land."
And it seems dealer opinions following the move to the agency model have also begun to thaw. Mr Collins admitted that the transition has been a "big change" for staff at Honda Centres across the country, but said the consultation-based nature of transactions was serving to forge stronger relationships with customers than under the traditional negotiation-based sales model.
"We obviously deal closely with our Dealer Representative Council – we meet with them once every month or so. I've also visited all our metropolitan dealers over the past few weeks… They are profitable and they've come to understand how the agency model works," Mr Collins told GoAuto.
"In some ways, it's a bit more challenging for our rural and provincial dealers because there's not the uplift in some of the service business, but, for the most part, our 90-strong Honda Centre network is performing well."
Mr Collins said Honda Australia would continue to work with its dealers to solve the teething problems that have been experienced with (the still-new) agency model, and that the experience for customers and dealers alike would continue to improve.
"We are continuing to improve. We have another discussion with our metropolitan dealer group in a couple of weeks, and we're making sure we maintain an open dialogue with all our dealers to learn what's working well – and what isn't," he said.
"On balance, I have to say things are pretty much where we expected them to be. We've still got some improvements to make, but, overall, I think it's pretty good."
---