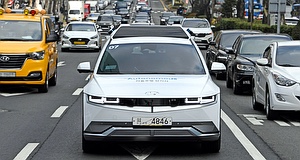 HYUNDAI is putting Level 4 autonomous Ioniq 5 EVs to work on the streets of Seoul, to operate as rideshare vehicles in the bustling Gangnam district.
The pilot program, fittingly dubbed RoboRide, is the brainchild of Hyundai Motor Group and is the latest move in the brand's intensifying autonomous pursuit.
"At Hyundai Motor Group, we are developing Level 4 autonomous driving technology based on the internally developed Advanced Driving Support System (ADAS), whose functionally and safety are verified through mass production and successful commercial launch," explained Hyundai Motor Group senior vice president of the Autonomous Driving Center, Woongjun Jang.
"We expect this RoboRide pilot service will be an important inflection point that will enable us to internalise autonomous driving technology."
The key focus for Hyundai seems to be data gathering, with the pilot allowing for the collection of large amounts of autonomous driving data within a congested urban environment.
A temporary autonomous driving operation permit, issued by the South Korean government, has allowed Hyundai to tackle the pilot alongside artificial intelligence (AI) start-up, Jin Mobility.
Jin Mobility will be taking the wheel, so to speak, across the pilot program with its AI-powered car-hailing mobility platform, i.M.
The system is setup to connect autonomous vehicles with traffic signals, as well as featuring a safeguard 'remote assist control' system.
The Hyundai Group outlined that the Level 4 autonomous technology in RoboRide vehicles can perceive conditions, making decisions, and controlling itself, but does allow a 'safety driver' to intervene.
Hyundai worked with Seoul Metropolitan Government to gather driving data within the Gangnam area, as well as connecting the vehicle systems to the traffic signal systems.
RoboRide will be operating between 10am and 4pm on weekdays only, and a maximum of three passengers per vehicle will be permitted.
A safety driver, serving as a manual override option, will be in the vehicle at all times to respond to emergencies or malfunctions.
To kick the pilot off, South Korean Minister for Land, Infrastructure and Transport, Won Hee-ryong, and Mayer of Seoul City, Se-hoon, took the hotseat as the first RoboRide customers.
The Hyundai Ioniq 5, being used in the RoboRide trial, was made available for order in Australia late last year but demand for the flagship model is still higher than local supply.
Pricing started at $71,900 for Australians, with buyers given the choice of the base single motor 160kW/350Nm rear-wheel drive setup, or more expensive dual-motor 225kW/605Nm all-wheel-drive configuration.
Both versions feature a 72.6Kwh lithium-ion battery, offering up a healthy 451km for the rear-driver and 430km for the all-wheel-drive option.
Impressively, when plugged into a 350kW fast charger, both the Ioniq 5 configurations will reach from 10 to 80 per cent charge in just over 17 minutes.
A typical 50kW fast charger will take around an hour to reach the same levels of juice, though the all-wheel-drive version will take an extra five minutes.
GoAuto drove the new Ioniq 5 when it hit Australian roads late last year, and you can read our comprehensive drive review down below.
---