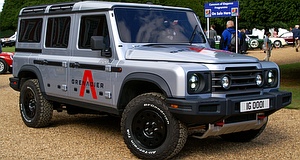 JUST as vehicles start rolling off the production line in France, a Luxury Car Tax (LCT) exemption and reclassification announced this week sees buyers of the hard-core Ineos Grenadier wagon saving between $4000 and $17,000 on the price of their new four-wheel drive.
Savings will be determined by vehicle specification with lower cost two-seat versions enjoying a smaller tax break compared to the fully kitted out five-seat version. New tax-exempt pricing is expected to place the range within the $80,000 to $90,000 price bracket.
Ineos Automotive this week contacted buyers on its Grenadier order bank informing them of a price reduction thanks to the Australian Tax Office (ATO) ruling.
The company said that it has been working with the ATO on a Private Ruling to exempt its new workhorse from LCT.
"The ATO has recognised that due to the Grenadier's design, engineering and capability, it is not considered a Luxury Car for tax purposes and therefore all wagon models, options and accessories are exempt from LCT," Ineos Automotive said in a statement.
The trigger point for LCT is $71,849 (or $84,916 for more fuel efficient vehicles) which incurs a 33 per cent hit, ultimately paid by the purchaser.
In line with the taxation changes, Ineos Australia has revised its sales configurator that reflects significant price reductions across its two- and five-seat wagon range slicing more than $4000 from base model Grenadier and more than $14,000 from a fully specified vehicle.
A five per cent import duty has also been removed from Grenadier due to its reclassification as an NB1 medium goods vehicle thanks to its 3550kg GVM.
The re-classification means the Grenadier will not be subject to ANCAP safety testing, skirting a potential issue with the vehicle not having the necessary driver-assist features required for a maximum five-star score.
The Ineos Grenadier is designed as a "blank canvas" for those requiring a pared-back workhorse with the ability to carry loads. The utility variant is equipped as standard with a full-height cargo barrier ahead of its 1200mm by 800mm load floor (with 2088 litres of cargo space) and is available with a metal panel or rear-side windows at no extra cost.
Further, Ineos Automotive asks no premium whether buyers opt for its BMW-sourced turbocharged petrol or diesel engines.
Both the Grenadier Utility Wagon and Station Wagon are further offered in variants including the off-road oriented Trialmaster Edition and practical Fieldmaster Edition.
The no-nonsense Trialmaster Edition is equipped as standard with front- and rear differential locks and BF Goodrich KO2 All-Terrain T/A tyres. The same equipment is available optionally elsewhere across the range.
Trialmaster Edition variants – whose design is inspired by UK utility clothing manufacturer Belstaff – places functionality and versatility as its top priorities and is aimed at customers who are "passionate about hard-core off-roading and tackling the toughest terrain".
The Grenadier Trialmaster Edition is equipped as standard with Ineos' Rough Pack and Smooth Pack which are available optionally elsewhere in the range.
The Fieldmaster Edition – named after yet another Belstaff jacket – is aimed at outdoorsy types with adventure-based lifestyles. Equipped with Ineos' Smooth Pack, but no Rough Pack, the variant includes additional technology items, Safari Windows and 17-inch alloy wheels, as well as leather upholstery and heated front seats.
All Ineos Grenadier variants are offered with a wide array of options and accessories. Many of these are bundled into logical packs, however there is the option to pick and choose those items required, building a vehicle that is suited to an individual's specific needs.
Ineos Automotive says its open-source approach to customisation means buyers can affix existing kit and utilise pre-wired electrical points to ensure the Grenadier suits their requirements.
The five-door wagon arrives with 264mm of ground clearance, has a wading depth of 800mm, an approach angle of 36.2 degrees, a break-over angle of 28.2 degrees and a departure angle of 36.1 degrees. Braked towing is rated at 3500kg and roof-top load is rated at 150kg dynamic and 420kg static.
Those numbers outpace the Jeep Wrangler Unlimited Rubicon, potentially Grenadier's main rival.
---