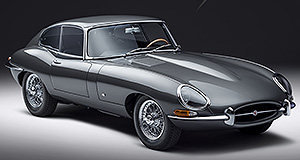 FOLLOWING on from the F-Type Heritage 60 Edition, Jaguar Land Rover (JLR) has revealed a second present for classic Jaguar fans in the lead up to the E-Type's diamond anniversary, this time in the form of 12 perfectly restored and modernised E-Types.
Comprised of six roadsters and six coupes – making six matching pairs – the reborn E-Types are fittingly badged as the 60 Editions and form what JLR is calling the 60 Collection.
Note, they can only be purchased as a matching pair.
As with the F-Type Heritage 60 Edition, all of the E-Type 60 Editions are finished in bespoke paintwork harking back to milestones within the model's history.
For starters, all of the coupes don a 'Flat Out Grey' paint scheme in honour of the original gunmetal grey example driven "flat out" from Coventry to the Geneva motorshow in 1961.
That feat was backed up only a day later by a British Racing Green roadster, hence why the six restored drop-tops are finished in 'Drop Everything Green' and flaunt a 'Suede Green' leather interior.
Commemorative 'E-Type 60 1961-2021' badging has been applied thoroughly on the exterior as well as the interior with every car featuring a bespoke centre console engraved with the routes taken by drivers Bob Berry and Norman Dewis on their way to Geneva in 1961.
Below the route map is an etched quote from Jaguar founder Sir William Lyons to the respective drivers, one being to Berry following his arrival and another to Dewis prior to his departure.
On the coupes, it reads: "I thought you'd never get here", while the roadster's reads: "Drop everything and bring the open top E-Type over".
Powered by an updated version of the original 3.8-litre straight-six petrol engine, the E-Type 60 Editions have been gifted a specially developed five-speed transmission, electronic cooling fan and electric ignition to enhance the day-to day-usability while a new stainless-steel exhaust ups the aural factor.
Continuing the bespoke and modernised theme is a Jaguar Classic infotainment system with built-in satellite navigation and Bluetooth connectivity while the steering wheel is adorned with a 24-carat gold horn button.
As part of the undisclosed purchase price, customers will also receive two tailor-made E-Type 60 car covers, tool rolls and jack storage bags with their cars.
Once the cars have been delivered, the owners will convoy from Coventry to Geneva in their cars in what JLR is calling "the ultimate E-Type pilgrimage".
According to Jaguar Classic director Dan Pink, the project was a "labour of love" for all involved and the "ultimate birthday present to the E-Type".
"Exquisite detailing combined with enhanced usability ensure these E-Types will be coveted and enjoyed for decades to come by their discerning owners, starting with a once-in-a-lifetime Coventry to Geneva pilgrimage for our six customers and their guests in summer 2022," he said.
It remains to be seen if any of the restored E-Types will make it to Australia given their sheer exclusivity, however given the planned pilgrimage and project location we would not expect any examples to be here any time soon.
Jaguar has sold 133 new cars Down Under so far this year ending February, 155 units down on the 288 it shafted over the same period last year.
---