New models – Jaguar – F-Type – Heritage 60 Edition
Jaguar's most exclusive F-Type yet is also the most expensive at $330,000 plus ORCs
9 Dec 2020
IN WHAT has proven to be a week rife with commemorative announcements, Jaguar Land Rover (JLR) Australia has revealed it has secured five examples of the new F-Type Heritage 60 Edition – far and away the most exclusive F-Type to date.
Just 60 examples of the bespoke sportscar are being built globally with the project intended to mark the 60th anniversary (2021) of the launch of the iconic E-Type with the Australia-bound examples all brandishing asking prices of $330,000 plus on-road costs.
Based on the V8-powered F-Type R ($262,936), all of the Australian examples will be coupes armed with 423kW/700Nm courtesy of the familiar supercharged 5.0-litre powerplant, with drive sent to all four wheels via an eight-speed automatic transmission.
The exclusivity lays in the abundance of bespoke features courtesy of SV Bespoke and include Sherwood Green paintwork (an original E-Type colour), heritage-inspired gloss black and chrome accents, Diamond turned gloss black 20-inch forged alloy wheels, two-tone Caraway and Ebony Windsor leather interior, E-Type-inspired aluminium console finisher and unique commissioning plaque.
According to Jaguar SV Bespoke commercial director Mark Turner, the 60th birthday of the E-Type was the perfect moment to create the first-ever SV Bespoke limited edition.
"We've worked closely with Jaguar Design to develop a theme for the F-Type Heritage 60 Edition that pays homage to the E-Type in a contemporary way," he said.
"It's testament to Jaguar's sportscar design lineage that the 1960s Sherwood Green colour looks as though it was designed for today's F-Type."
While classic in appearance and finish, the Heritage 60 Edition retains all of the savage performance of its donor car with 0-100km/h dealt with in 3.7 seconds while the top speed is pegged at 300km/h.
Jaguar Special Vehicle Operations director of vehicle personalisation Clare Hansen said it was the brand's "unrivalled access to original drawings, paint codes and reference materials" that allowed for such a package to come to fruition.
"The F-Type Heritage 60 Edition is a fantastic example of what the SV Bespoke team is capable of.
"Marrying E-Type inspired detailing with new F-Type gave us an opportunity to immerse ourselves in the heritage of Jaguar's legendary sportscars … we've created a distinctive and highly collectible interpretation of the definitive Jaguar sportscar."
JLR Australia has sold 32 F-Types so far this year ending November, accounting for just one per cent of the $80,000-plus sportscar segment – 59 fewer than it managed over the same period last year.
2021 Jaguar F-Type pricing*
| | |
| --- | --- |
| Coupe 2.0 R-Dynamic 221kW RWD (a) | $126,035 |
| Convertible 2.0 R-Dynamic 221kW RWD (a) | $144,735 |
| Coupe V6 R-Dynamic 280kW RWD (a) | $172,735 |
| Convertible V6 R-Dynamic 280kW RWD (a) | $191,436 |
| Coupe V6 First Edition 280kW RWD (a) | $204,936 |
| Coupe R V8 423kW AWD (a) | $262,936 |
| Coupe Heritage 60 Edition (a) | $330,000 |
*Excludes on-road costs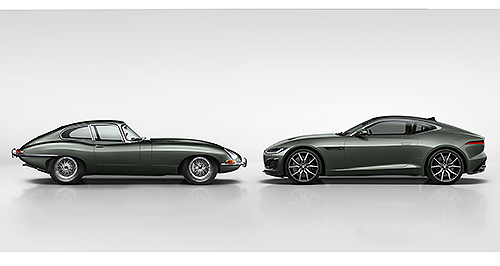 Read more
All new models
F-Type pricing
2.0 221KW RWD

400 Sport V6

400 Sport V6 AWD

R-Dynamic 2.0 221KW RWD

V6 250KW

V6 280KW

V6 280KW AWD

V6 R-Dynamic 250KW

V6 R-Dynamic 280KW

V6 R-Dynamic 280KW AWD

V8 R AWD

V8 SVR AWD
Motor industry news
GoAuto can help you buy a new F-Type
Customer Terms and Conditions – New Car Lead enquires
Agreement
This is an agreement between GoAutoMedia Pty Limited ACN 094 732 457 of PO Box 18, Beach Road, Sandringham, VIC, 3191 ("we/us"), the owner and operator of the GoAuto.com.au website ("the website") and the person wanting GoAuto.com.au to provide them with a lead for the purchase of a new car ("you").
By completing a New Car Lead Enquiry, you agree to the terms and conditions and disclaimers and acknowledge the policies set out below.
Terms and Conditions
In order for us to effect a lead you must you must complete a New Car Lead Enquiry ("Enquiry").
We will call you as soon as possible after you complete the Enquiry and certainly no later than the next business day. When we call, we will discuss with you your new car requirements.
You consent to our passing on the Enquiry and your requirements to an appropriate authorised motor car dealer as a lead.
We will contact you again in approximately eight days following your initial enquiry to check on the progress of the Enquiry.
While we will provide the dealer with the Enquiry and details of your new car requirements, we take no responsibility for what happens after passing on that material as a lead.
You acknowledge that we are a new car information service providing new car editorial information, pictures and prices to our customers as a guide only. Any new car prices published on the website are the manufacturers' recommended retail prices and do not include delivery charges and on-road costs. Any authorized motor car dealer to which we pass on your Enquiry as a lead will provide you with full details of the price at which the vehicle will be sold to you.
You acknowledge that we do not sell motor vehicles. Any sale of a new car to you by a dealer after we have passed on your Enquiry to that dealer as a lead, is a sale by that dealer not by us.
Privacy Policy– New Car Lead Enquires
We take privacy very seriously. We understand that you will only complete an Enquiry if you can trust us to protect your personal information and use it appropriately. Our policy is to ensure that the personal information collected when you make an Enquiry is only used for the purposes of connecting you with an authorised motor car dealer.
We do not on-sell information collected from you or any other customer.
From time to time, we may email you with information or promotions that may be relevant for car buyers. You will continue to receive communications from us unless you tell us that you do not want to receive any advertising or promotional information in the future by unsubscribing from these communications.
Click to share
Jaguar models
All new models
F-Type pricing
2.0 221KW RWD

400 Sport V6

400 Sport V6 AWD

R-Dynamic 2.0 221KW RWD

V6 250KW

V6 280KW

V6 280KW AWD

V6 R-Dynamic 250KW

V6 R-Dynamic 280KW

V6 R-Dynamic 280KW AWD

V8 R AWD

V8 SVR AWD
Motor industry news
---