New models – Jaguar – F-Type
Jaguar farewells four- and six-cylinder F-TYPE models for V8 power in 2022
9 Nov 2021
JAGUAR will farewell turbocharged four-cylinder and supercharged six-cylinder versions of its F-TYPE coupe and convertible as the range moves to offer only supercharged V8 power for 2022.
Available in two states of tune, the 5.0-litre unit will offer 331kW/580Nm P450 R-Dynamic variants in coupe and convertible body styles, the 423kW/700Nm P450 R available as a coupe only. Both are paired to an eight-speed automatic transmission with R-Dynamic models driving the rear wheels, the sportier R version adding all-wheel drive and an active sports exhaust.
The range will now be priced from $159,900 plus on-road costs, almost $32,000 more than the current 2.0-litre coupe entry model ($127,942). Jaguar's six-cylinder F-TYPE range kicked off at $174,642 previously, with the MY21 V8 range beginning at $264,842. For V8 fans, it makes the MY22 line-up something of a bargain.
The P450 R-Dynamic coupe (from $159,900) and convertible (from $164,900) range can accelerate from standstill to 100km/h in 4.6 seconds on its way to a top speed of 285km/h. The latest F-TYPE variant is enhanced with Jaguar's R-Dynamic pack as standard and includes 20-inch alloy wheels in a six-spoke design finished in contrasting dark grey and diamond turned finish.
For the F-TYPE R coupe (from $264,966), the dash to 100km/h falls to just 3.7 seconds with v-max electronically restricted to 300km/h.
The MY22 variant now includes metallic and premium paint as standard, alongside a fixed panoramic roof, exterior black design pack, aluminium paddle shifts, blind-spot assist pack, tyre pressure monitoring, and 20-inch alloy wheels in a five spoke design finished in satin grey.
All variants are equipped as standard with Jaguar's configurable and adaptive damping system and quiet start function to limit exhaust noise on start-up.
The range also includes Jaguar's 12.3-inch digital instrument panel and 10.0-inch touch Pro infotainment array featuring proprietary satellite navigation, Apple CarPlay and Android Auto connectivity, and DAB+ digital radio reception.
All F-TYPE models are also equipped with a 380-watt/10-speaker premium Meridian sound system with two subwoofers as standard issue.
The flagship F-TYPE SVR remains missing in action with the latest update, though its muscular supercharged V8 lives on in the current F-TYPE R. The slow-selling 221kW/400Nm four-cylinder and 280kW/460Nm supercharged V6 have also passed into the history books, alongside the previous low-output 250kW/450Nm V6 which was cut from the line-up in 2019.
Jaguar F-TYPE models continue to be backed by a five-year/unlimited-kilometre warranty with included roadside assistance and five-year/130,000km servicing package.
The MY22 Jaguar F-TYPE coupe and convertible range is available to order now. First deliveries are expected in dealerships from December (2021).
2022 Jaguar F-TYPE pricing*
| | | |
| --- | --- | --- |
| R-Dynamic P450 Coupe (a) | $159,900 | (new model) |
| R-Dynamic P450 Convertible (a) | $164,900 | (new model) |
| R P450 Coupe (a) | $264,966 | (unchanged) |
*Pricing excludes on-road costs.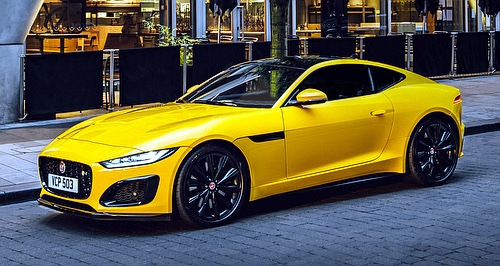 Read more
All new models
F-Type pricing
2.0 221KW RWD

400 Sport V6

400 Sport V6 AWD

R-Dynamic 2.0 221KW RWD

V6 250KW

V6 280KW

V6 280KW AWD

V6 R-Dynamic 250KW

V6 R-Dynamic 280KW

V6 R-Dynamic 280KW AWD

V8 R AWD

V8 SVR AWD
Motor industry news
GoAuto can help you buy a new F-Type
Customer Terms and Conditions – New Car Lead enquires
Agreement
This is an agreement between GoAutoMedia Pty Limited ACN 094 732 457 of PO Box 18, Beach Road, Sandringham, VIC, 3191 ("we/us"), the owner and operator of the GoAuto.com.au website ("the website") and the person wanting GoAuto.com.au to provide them with a lead for the purchase of a new car ("you").
By completing a New Car Lead Enquiry, you agree to the terms and conditions and disclaimers and acknowledge the policies set out below.
Terms and Conditions
In order for us to effect a lead you must you must complete a New Car Lead Enquiry ("Enquiry").
We will call you as soon as possible after you complete the Enquiry and certainly no later than the next business day. When we call, we will discuss with you your new car requirements.
You consent to our passing on the Enquiry and your requirements to an appropriate authorised motor car dealer as a lead.
We will contact you again in approximately eight days following your initial enquiry to check on the progress of the Enquiry.
While we will provide the dealer with the Enquiry and details of your new car requirements, we take no responsibility for what happens after passing on that material as a lead.
You acknowledge that we are a new car information service providing new car editorial information, pictures and prices to our customers as a guide only. Any new car prices published on the website are the manufacturers' recommended retail prices and do not include delivery charges and on-road costs. Any authorized motor car dealer to which we pass on your Enquiry as a lead will provide you with full details of the price at which the vehicle will be sold to you.
You acknowledge that we do not sell motor vehicles. Any sale of a new car to you by a dealer after we have passed on your Enquiry to that dealer as a lead, is a sale by that dealer not by us.
Privacy Policy– New Car Lead Enquires
We take privacy very seriously. We understand that you will only complete an Enquiry if you can trust us to protect your personal information and use it appropriately. Our policy is to ensure that the personal information collected when you make an Enquiry is only used for the purposes of connecting you with an authorised motor car dealer.
We do not on-sell information collected from you or any other customer.
From time to time, we may email you with information or promotions that may be relevant for car buyers. You will continue to receive communications from us unless you tell us that you do not want to receive any advertising or promotional information in the future by unsubscribing from these communications.
Click to share
Jaguar models
All new models
F-Type pricing
2.0 221KW RWD

400 Sport V6

400 Sport V6 AWD

R-Dynamic 2.0 221KW RWD

V6 250KW

V6 280KW

V6 280KW AWD

V6 R-Dynamic 250KW

V6 R-Dynamic 280KW

V6 R-Dynamic 280KW AWD

V8 R AWD

V8 SVR AWD
Motor industry news
---