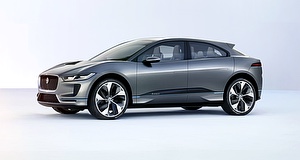 JAGUAR hopes to futureproof itself with three new battery-electric sports SUVs that will see the Coventry-based manufacturer produce models to directly rival offerings from Bentley, no less.
Based on an all-new dedicated electric platform, the three new models are due to start appearing in 2025, Autocar reports. The site suggests their pricing may top out near the £200,000 (A$ 352,000) mark in the UK – a hitherto unseen level for models of the historic Tata-owned British marque.
The shared platform will allow Jaguar, which looks to redefine itself as a manufacturer of prestige battery-electric vehicles (BEVs), to leverage locally manufactured components across the three models and implement a parts commonality program to control costs.
Jaguar Land Rover CEO, Thierry Bolloré, has publically stated his plan to mirror the Range Rover reboot – which has achieved sales success for the mother company – in a new Jaguar line-up.
At Bolloré's direction, Jaguar's chief designer Gerry McGovern got to work and quickly rejigged future models in line with the company's new plans.
It's believed unlikely that Jaguar will produce a small SUV (ostensibly to replace the E-Pace). Instead, the smallest of its new e-SUVs will have similar dimensions to a Range Rover Sport and come in three- and five-door guises with prices starting between £80,000 and £90,000 (again, in the UK).
Model dependent, the new Jaguar models will feature both single and twin motor powertrains and will likely be available in two- and four-wheel-drive configurations, the latter of which may have a longer wheelbase to suit the US and Chinese markets, with a highly luxurious specification to suit.
These cars are likely to be offered with near-bespoke option plans; customers will be able to select features from an extensive range of trims and finishes, which is what "Bentley customers" expect.
This plan had been closely guarded for at least two years, because Messrs Bolloré and McGovern were determined to "have something great to show" before they take the wraps off new models that will represent a complete change in Jaguar's direction and traditions, a source told Autocar.
However, Jaguar's move upmarket will not come at the immediate expense of its existing range as the three vehicles in question will be supplementary models designed to make conquest sales over he likes of Bentley. The firm hopes to sell an additional 50,000 units globally thanks to its new SUVs.
Expect to see concepts of the new SUVs in 2024 in the run up to full production by 2025.
As part of Jaguar's new direction, the company will incorporate more locally sourced components (such as batteries) and implement the latest in EV motor designs, high-output 800V charging, OTA cloud connectivity and increased processing power to support high-level autonomous driving tech.
An extended production facility is under construction at Solihull to facilitate all the above.
---