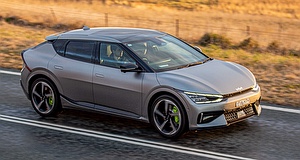 KIA Australia has shared details and images of its delayed localised ride and handling program for the forthcoming EV6 GT performance model.
The highly anticipated all-electric sports car is the latest model to undergo Kia's extensive suspension retune, which expands on the model's base tune developed in part at Germany's famed Nürburgring race circuit.
Kia Australia says that with international borders now open, the ability to transform the ride and handling character of EV6 GT will now focus on B-road compliance, ensuring the vehicle is capable of coping with Australia's rough, country roads without losing its confident, grippy dynamics.
Speaking about the project this week, Kia Australia ride and handling engineer Graeme Gambold – who has localised the ride and handling of over 50 Kia models over the past 11 years – says he is enthusiastic about the EV6 GT's dynamics and performance.
"We had a solid platform to work with and spent time in both Germany and locally, ensuring the GT can cope with our harsher conditions," he said.
"Compliance on rough country roads and, importantly, grip on uneven surfaces which is more prevalent in Australia, has been addressed."
"At all times we were mindful of the existing EV6 range, which is already dynamically capable. The GT had to raise the bar substantially and is a testament to how far Kia has come from a vehicle dynamics and performance perspective."
Mr Gambold said it was critical Kia's new dynamic halo car retained its track-worthiness, and that initial tuning in Germany has locked in the "hard parts" including the hydraulic tune of the shock absorbers and the electric power steering. The finishing touches of the EV6 GT's suspension tune were conducted in and around Canberra and the greater ACT area.
Kia Australia general manager of product Roland Rivero, said the results make the model a very worthy GT car, and one that feels appropriately positioned above the existing EV6 range.
"Being given the opportunity to add a new dynamic halo to our range, it was important we developed an Australian tune and not simply adopt a spec' from another market," explained Mr Rivero.
"The importance of our requirement for a localised and unique tune is supported by headquarters and allows Kia Australia one of only four global tuning specs available for the EV6 GT.
"Despite the hurdle that confronted us, from the lack of availability of a test mule in Namyang (Korea) to the impracticalities of COVID-19 restrictions in Korea requiring seven-days isolation, we negotiated an unprecedented new process of initial tuning in Germany and then fine tuning in Australia."
"We are thankful for the support for HMETC (Hyundai Motor Europe Technical Centre) for allowing us to utilise their pre-production vehicle and their facilities in Nürburg."
The 430kW/720Nm electric flagship rides on Hyundai Motor Groups E-GMP platform and offers all-wheel drive motivation, a 58kWh battery pack, a claimed 0-100km/h acceleration time of 3.5 seconds, and a driving range of around 405km.
Kia offers the EV6 GT with both 400- and 800-volt charging capabilities and says the model can be charged from 10 to 80 per cent capacity in just 18 minutes.
The EV6 GT measures 4695mm in length, is 1890mm wide and 1550mm tall. It rides on a 2900mm wheelbase. Cargo capacity is quoted at 520 litres with the rear seats in place, with an additional 20 litres of space in the 'trunk'.
"Tuning vehicles to suit Australian conditions is a crucial feature in the local model line-up and can be significantly credited to our overall sales," said Kia Australia CEO Damien Meredith.
"The Kia EV6 Air and GT-Line models introduced earlier this year, have already verified the EV6 as the new halo for the Kia brand and have attracted an extraordinary level of interest.
"The challenge with the local tune of the GT variant is to go above and beyond what is already available in the very capable and award-winning EV6 GT-Line."
Mr Meredith said further details of the EV6 GT's local specification and pricing will be announced closer to the models launch here in Q4 of this year.
---