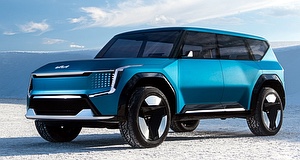 AFTER observing corporate cousin Hyundai rake in new customers with its popular Palisade, Kia Australia has indicated that it too will launch a supersized flagship SUV in the not-too-distant future.
However, rather than bring in a conventional triple-row broad-shouldered SUV, Kia is instead placing its chips on a slightly riskier gamble – a purely-electric upper-large SUV.
Kia Australia has not only stuck its hand straight up for the production version of the EV9 Concept revealed late last year (pictured), but the company reckons the hulking battery-operated wagon will be able to steal some of the thunder from its two ultra-conservative segment rivals – Toyota's dominant LandCruiser, and Nissan's venerable (but still very much viable) Patrol.
It's a bold move, especially as buyer wants and needs in that segment typically include things like long range and the ability to operate well outside of civilisation – and presumably far away from things like fast-charging stations.
Still, Kia says in terms of price and footprint, the production-spec EV9 will go toe-to-toe with its Nissan and Toyota competition.
But is it necessarily a gamble? In a way, Kia Australia's hand has been forced. The company was originally hoping to bring the Telluride to our shores as its flagship Large SUV, but that car has since evolved into a US-centric offering with no future in right-hand-drive markets.
"Telluride will never be developed in right-hand drive, so you can rule that out. However, there is an opportunity for a vehicle of a similar size, but all-electric, to potentially make its way to Australia," said Kia Australia's general manager of product planning, Roland Rivero.
"We've put our hand up for it, we've shown our interest in it and headquarters is understanding of our desire. They know that there exists an upper-large SUV [market in Australia], and if you look at the average recommended retail price in upper-large, it's actually about $96,000.
"Right now, it's a two-horse race in upper-large, Patrol and LandCruiser, but under the FCAI segmentation, which is really only footprint-based, we could probably throw another product in there within the same price vicinity – but be all-electric."
And when it comes to all-electric upper-large Kia SUVs, there's only one vehicle that fits that template: the EV9.
The EV9, which only broke cover in November 2021 at the Los Angeles Auto Show as a concept vehicle, will be built atop the E-GMP platform that underpins the recently launched EV6 and Hyundai Ioniq 5.
Measuring 4930mm long, 2055mm wide, 1790mm tall and with a wheelbase of 3100mm, the EV9 concept is slightly shorter, slightly wider and slightly lower than the 300 Series LandCruiser but sits on a significantly longer wheelbase.
It's expected that the production car will feature very similar overall dimensions, though there's no word on if it will offer more range than the concept's claim of 483km on a single charge.
"When you start seeing a concept car that looks so close to production, you're less than 12 months away," said Mr Rivero when asked when the production version would break cover.
A full reveal should happen before this year is out.
"I can't speak on behalf of any other region or any other country, but Korea is very well aware that Australia has very strong interest in that product. We've seen how Palisade is going, it's going relatively well, and we think that there is definitely an opportunity there that we're missing out on."
But how big is that opportunity given the fact that Kia has never fielded a direct LandCruiser rival, let alone one that isn't available with combustion power – even as an option?
The EV9's arrival would certainly give it first-mover status in the segment, and the desirability of pure-electric product is indeed on the rise, but blazing a trail is not without its risks.
"Landcruiser is a behemoth," Mr Rivero told to GoAuto.
"It's got a reputation that you can't touch. But at the same time, there is a desire from Australians for a big SUV that can tow, that can go off-road, and if we can offer something along those lines but all-electric, then it's actually an opportunity that hasn't been tapped into.
"Just judging by the Palisade demand, the LandCruiser demand, the Patrol demand, there's got to be demand for something like the EV9. If we can get our hands on one, we are quietly confident that it will sell."
One ace up its sleeve could be price. While the base LandCruiser GX retails for $89,990, the rest of the 300 Series 'Cruiser range cost six figures before on-roads.
According to Mr Rivero, Kia Australia's LandCruiser-fighter will give the same level of interior space and utility as well as all-electric sophistication for a more reasonable price tag.
"As an entry price, we're confident it will be a five-figure car," he concluded.
---