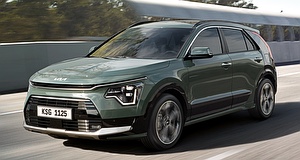 THE first iteration of the Niro got a lukewarm reception when it arrived here last year, but the model was right at the end of its lifecycle. However, Kia Australia has announced that the arrival of the model's successor – the box-fresh, second-gen Niro – is imminent.
Due to go on sale by the end of this month (June), the Niro follows a similar format to that of its predecessor, albeit with one key difference: the absence of a plug-in hybrid variant.
The outgoing Niro offered buyers a choice between hybrid, plug-in hybrid (PHEV) and battery electric powertrains, which made it fairly unique (only the Hyundai Ioniq matched that level of range diversity in the mainstream market). However, very limited uptake of the PHEV variant (its percentage of Niro sales is understood to be in the single-digit realm), sent Kia Australia's product planners a clear message – Australians just aren't interested in the PHEV proposition when conventional hybrid and pure EV versions are also on the table.
Kia has nevertheless taken the precaution of homologating the Niro PHEV anyway – it's keeping that variant in its back pocket in the event that consumer demand for the plug-in small SUV picks up appreciably. At launch though, only two powertrains will be available.
The line-up begins with the conventional hybrid, which Kia markets as the Hybrid Electric option. It is powered by a 77kW/144Nm 1.6-litre direct-injection petrol engine that drives the front wheels in concert with a 32kW permanent-magnet synchronous electric motor and six-speed dual-clutch automatic transmission. The combined output is 104kW and 265Nm and, while those numbers are identical to those of the first-gen Niro, Kia claims that mechanical refinements and weight reduction have improved the efficiency of the package.
However, claimed fuel economy for the hybrid is 4.0 L/100km – 0.2 L/100km up on the model it replaces. It's unclear why that's the case, but an increase in overall weight or differences in the wheel and tyre package seem like likely reasons. Full specifications won't be revealed until launch, but the new Niro is significantly longer and wider than before.
For the fully electric option, it's a similar tale of mechanical carry-over. A 64.8kWh lithium-ion battery supplies power to a single 150kW electric motor, which drives the front wheels through a single-ratio reduction gear. Maximum torque is listed as just 255N , which is significantly less than the 395Nm offered by the outgoing battery-electric Niro, while peak range on a single charge is a claimed 460 kilometres – 5km more than the old car.
The lack of major changes under the skin is not a surprise. Unlike the Kia EV6, which is built on its own dedicated electric architecture (dubbed the Electric Global Modular Platform), the Niro utilises a legacy platform in order to accommodate its combustion engine. From the outside though, the new Niro looks almost nothing like the car it replaces.
The new-generation Niro dumps the old car's dowdy sheetmetal in favour of a futuristic aesthetic that's highlighted by a full-width upper grille graphic and low-set light pods at the front, and a contrast-colour C-pillar and Volvo-esque vertical tail lamps at the rear. Unlike the deeply conservative first-gen Niro, the 2023 model looks dynamic and modern.
Full specifications and pricing are still under wraps, but two grades will be offered at launch – base S, and top-spec GT-Line, with both powertrains available in either grade. Standard safety equipment includes a centre-side airbag, blind-spot assist, rear cross-traffic alert, intelligent speed limit assist and an electrochromatic rear-view mirror on all variants.
For the Niro GT-Line, equipment highlights will include a 10.25-inch digital instrument panel, a head-up display, ventilated front seats, a heated steering wheel, remote parking assist, powered tailgate, as well as a wireless phone charging pad. On the EV GT-Line, an electric sunroof, 8-speaker Harmon/Kardon audio system, "Premium Relaxation" seat and the ability to power external devices from an integrated 240V outlet will also be standard.
The Niro will also be the first model to receive the Kia Connect telematics system in this country. Providing live data for weather, traffic, the proximity of charging stations and more, Kia Connect will also provide a phone app interface for drivers to remotely start the car, activate climate control, upload navigation destinations, check on vehicle status and even enable a valet mode to keep tabs on their car when another person is driving it. This technology is expected to trickle through to the rest of Kia's product portfolio.
Crucially, the Niro arrives at a time where EV headwinds appear to be turning into tailwinds in this country… The recent election of the Labour Party has given Kia Australia's top brass some hope that it can finally leverage an advantage in the EV space:
"What it means is that we've got at least a bit of a national strategy now, so I applaud that – I think it'd be far-reaching for companies like ours," Kia Australia's chief operating officer Damien Meredith said in a media briefing.
"We can report back to head office and say: 'Australia's got a national strategy now and a government that's interested in EVs and the infrastructure of EVs. Let's start getting more models and more volume into Australia'. That's what we're going to be talking about."
Despite its ageing underpinnings, the Niro will be a key part of Kia's EV strategy. The EV variant is expected to continue to sit just under its more advanced sister, the EV6, price-wise.
---