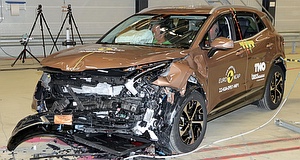 KIA's Sportage medium SUV is a popular choice in the fleet and family markets – and a 5-star safety rating from the Australasian New Car Assessment Program (NCAP) is bound to add to its desirability.
NCAP recently said in a statement that "solid scores were awarded to the Kia Sportage for its protection of adult and child occupants", with scores of 87 per cent achieved in both the Adult Occupant Protection and Child Occupant Protection areas of assessment.
Physical crash testing also revealed a relatively low injury risk to occupants of oncoming vehicles in a collision, with a moderate (1.37 point) deduction applied for vehicle compatibility in the frontal offset test.
Over and above a dual front-, side- and curtain airbags, the Korean marque's medium SUV is equipped as standard with a centre airbag, which provided protection against lateral movement of the driver, and prevented occupant-to-occupant interaction in the side impact test.
In the full width frontal test and oblique pole test, marginal levels of protection were observed for the chest of the driver.
The Sportage also performed well in most tests of its autonomous emergency braking (AEB) system in forward-travel scenarios when interacting with pedestrians and cyclists.
Mixed results were recorded in tests of its AEB system when reacting to other vehicles, with poorer performance at test speeds above 60km/h, leading to an overall marginal assessment. Tests of the lane-support system (LSS) showed good performance across most scenarios, however.
The AEB system fitted to some variants of the Sportage does not react to pedestrians in reverse or turning scenarios, and these tests were therefore not conducted or scored, NCAP noted (AEB Backover is available on the GT-Line in Australia, and X-Line and X-Line Urban in New Zealand).
Australian- and New Zealand-supplied Sportage variants are fitted as standard with AEB Junction Assist – which can prevent or minimise the severity of a crash when turning across the path of another vehicle – yet as this functionality was not fitted to the test vehicle that was assessed in Europe, points were not able to be awarded in this part of the assessment, NCAP said.
"It is likely that locally-supplied models would achieve a slightly higher Safety Assist score with this added functionality," the ACT-based independent vehicle-safety authority said in its statement.
"The new Kia Sportage has already proven to be a popular choice for fleets and families, and Kia is to be congratulated for achieving another 5-star safety rating against ANCAP's 2020-2022 protocols," ANCAP chief executive officer, Carla Hoorweg, said.
Ms Hoorweg also commented on the Hybrid variant of the GWM Haval H6 being awarded a 5-star ANCAP safety rating – the petrol-electric medium SUV was assessed along with its H6 GT stablemate.
"Two additional ANCAP crash tests were performed… with comparable high levels of safety performance observed. This has enabled the existing 5-star ANCAP safety rating published earlier this year (for petrol H6 variants) to be extended to H6 Hybrid," Ms Hoorweg said.
Details of the crash-test performance of the Sportage and H6 Hybrid can be viewed here.
---