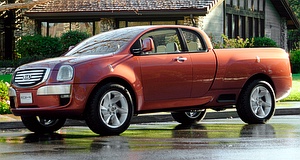 KIA has indicated that it will launch two electric utes as part of a range of new zero-emissions models by 2027. The line-up will comprise as many as 14 battery-electric vehicles (BEVs).
One of the utes will be designed specifically for emerging markets, Kia said, while the other was earmarked for mature markets, such as Australia, where it will compete with rivals such as the Chevrolet Silverado EV, Ford F-150 Lightning, Ram 1500 EV, Rivian R1T and Tesla Cybertruck.
Kia has yet to reveal full details of its utility BEVs, but confirmed that the load-carrying variants would be in showrooms by as early as 2026.
The light commercial utilities form part of a range of electric cars that Kia plans to launch by 2027 and will arrive alongside a further 17 BEVs from sister company Hyundai. The Korean giant says it (including luxury arm Genesis) will roll out the, um, battery of BEVs by the end of the decade.
Hyundai announced its strategic roadmap towards electrification recently, when Hyundai Motor Company (HMC) president and CEO, Jaehoon Chang, said his company would continue to advance both its hardware and software technologies.
"Hyundai is successfully accelerating its transition to electrification and becoming a global leader in EVs despite a challenging business environment caused by the (industry-wide) chip shortage and ongoing pandemic," Mr Chang said.
"Along with our seamless efforts to improve EV value, HMC will continue to secure its business sustainability as a Mobility Solutions Provider through advanced technologies of not only hardware, but also software," he added.
Mr Chang unveiled sales and financial performance targets that he said were expected to be achieved by the end of the decade, including annual global BEV sales of 1.87 million units (or a 7% global share) by 2030.
Hyundai also presented its mid- to long-term financial goals earmarking ₩95.5 trillion ($A105.6 billion) of investment for future business by 2030, including ₩19.4 trillion ($A21.4 billion) for electrification and ₩12 trillion ($A13.3 billion) for software capabilities.
The Korean giant said that by the end of the decade, it hoped to achieve an operating profit margin of 10 per cent or higher in EV businesses by "enhancing competitiveness in hardware and software capabilities" and "an expanded (vehicle) line-up".
That line-up will include 11 electric models from Hyundai – including three sedan models, six SUVs, one light commercial vehicle, as well as "one new-type model" – and six from Genesis, including two passenger cars and four SUVs.
Hyundai also said it would diversify battery sourcing (with the aim of securing 170GWh of batteries for its models by 2030) and introduce an Integrated Modular Architecture (IMA) – an evolution of the electric global modular platform (E-GMP) that underpins the Ioniq 5 and GV60.
The IMA was being developed to standardise a battery system and up to five motor types, which will be utilised in a wide range of BEVs and the exclusive purpose-built vehicle (PBV) platform.
The Korean firm was also developing new software architectures capable of applying over-the-air updates to new models from the end of 2022 and a Level 3 autonomous driving technology (dubbed Highway Driving Pilot), which would be applied to the Genesis G90 later this year.
For Kia, the future looks equally electric. The firm is targeting annual vehicle sales of four million units globally in 2030, including 1.2 million BEVs. It will reportedly introduce up to 14 new BEVs by 2027 and offer over two million eco-friendly models for annual global sale by the year 2030.
Like Hyundai, Kia will also offer advanced autonomous driving capabilities dubbed AutoMode by 2023. The technology will debut in the brand's EV9 and roll out elsewhere in following years.
"Kia has been undergoing a full-scale transformation which has included changes in corporate vision, logo, product and design and strategy," Kia's president and CEO Ho Sung Song said.
"To achieve the company's vision of becoming a sustainable mobility solutions provider, we will focus on accelerating the transition to future business models. We will become increasingly customer-centric in our approach and pursue a dynamic transformation while maintaining sound business operations," he added.
Mr Sung Song said the company aimed to expand the proportion of eco-friendly cars within its portfolio from 17 per cent in 2022 to 52 per cent in 2030. Kia planned to launch at least two new BEVs per year from 2023 and build a full line-up of 14 BEVs by 2027.
Furthermore, the company was planning to establish a battery supply-and-demand strategy and constantly upgrade its battery technology. It forecasted that battery demand would increase significantly from 13GWh in 2022 to 119GWh in 2030 on the back of increased EV sales.
Kia's mid- to long-term financial goals show that by 2026, the company aims to reach a total of ₩120 trillion ($A132.3 billion) in gross revenue with ₩10 trillion ($A11.1 billion) in operating profit and an operating profit margin of 8.3 per cent. Kia aims to increase its market capitalisation to ₩100 trillion ($A110.2 billion) by 2026 – a threefold increase compared to the end of 2021.
---