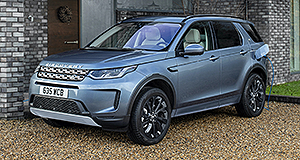 JAGUAR Land Rover (JLR) has announced it will be fitting its Discovery Sport and the baby Range Rover Evoque with a new plug-in hybrid (PHEV) powertrain said to sip just 1.4 litres of fuel per 100km on the combined cycle.
Dubbed the P300e, both the Evoque and Discovery Sport hybrids are due to touch down in Australia in the second quarter of next year sporting exactly the same hybrid setup.
The new powertrain is centred around a 147kW 1.5-litre three-cylinder petrol engine and an 80kW electric motor paired to a 15kWh lithium-ion battery driving the rear axle.
Combined, the system produces a healthy 224kW of power and 540Nm of torque, fed to the ground by all four wheels via a new eight-speed automatic transmission.
According to JLR executive director of product engineering Nick Rogers, the new powertrain emits just 32g of CO2 per km when fitted in the Evoque and 35g/km in the Discovery Sport.
"The 147kW engine, combined with an 80kW electric motor on the rear axle, gives fantastic all-wheel drive capability and the perfect blend of performance, depending on your driving style," he said.
"Additionally, both vehicles have an impressive all-electric, zero tailpipe emission range of 66km (Evoque) and 62km (Discovery Sport) respectively."
In terms of performance, JLR claims the Evoque P300e will sprint from a standstill to 100km/h in 6.4 seconds while its Discovery Sport counterpart takes an extra two tenths, stopping the clock at 6.6 seconds.
The Discovery Sport also lags slightly behind its more upmarket cousin on fuel economy, sipping an extra 200mL of fuel per 100km on the combined cycle (1.6L/100km).
To maximise efficiency and tailor the vehicles to the journey at hand, drivers will have three driving modes at their disposal – Hybrid mode, EV mode and Save mode.
Hybrid mode is the default setting and automatically combines power from the electric motor and petrol engine, adapting to the driving conditions and remaining charge in the battery.
EV mode is the all-electric setting, relying exclusively on the battery and electric motor for propulsion while Save mode prioritises the combustion engine and maintains the battery's state of charge at a chosen level.
Both cars will reach 135km/h in EV mode before the electric motor is disconnected in the name of boosting efficiency (reducing drag) while regenerative braking does its bit to replenish the battery where possible.
The 15kWh lithium-ion battery pack is stashed under the rear seats in both models and can be charged to 80 per cent in just 30 minutes when using a public fast charger.
Charging at home using a 7kW wall charger reportedly takes one hour and 24 minutes while using typical domestic electricity supply can take up to six hours and 42 minutes (to 80% charge).
Spec-wise, both models will be offered in their respective HSE guises as standard although buyers can opt to upgrade to the R-Dynamic spec which adds sportier exterior styling and unique alloy wheels.
Being at the higher end of the Evoque and Discovery Sport ranges, the HSE moniker denotes a selection of extra gadgets, equipment and safety tech compared to their lower spec counterparts.
For the Evoque, this includes dual zone climate control, adaptive cruise control, dynamic indicators, blind spot monitoring, extended leather pack, exit warning system, self-levelling headlights with automatic high beam, high speed emergency autonomous braking, power tailgate, interactive driver display, keyless entry, premium LED headlights, leather steering wheel, park assist, surround-view monitor, rear cross traffic alert and a premium 10-speaker sound system, among other features.
The Discovery Sport HSE's standard equipment list isn't quite as long but still features a wealth of goodies over the lower models including adaptive cruise control, blind spot assist, self-levelling headlights with automatic high beam, high speed autonomous emergency braking, illuminated door sill panels, keyless entry, premium LED headlights, leather steering wheel and 14-way power adjustable front seats with memory function.
According to JLR, local pricing and exact specification levels for both models will be revealed closer to their launch dates next year.
So far this year ending March, JLR Australia has shifted 438 Range Rover Evoques and 410 Discovery Sports, accounting for 6.6 and 6.1 per cent respectively of the $60,000+ medium SUV segment.
---