New models – Land Rover – Range Rover Velar
Simplified line-up, new MHEV engine choices for revised Range Rover Velar line-up
23 Sep 2020
JAGUAR Land Rover (JLR) Australia has announced pricing for its updated Range Rover Velar luxury large SUV, with the slimmed-down range ushering in new engine choices and updated spec changes ahead of a local arrival in March next year.
Priced from $87,000 plus on-road costs, the new range will consist of five variants, starting with the S P250 grade and topping out at $127,000 for the HSE P400.
It is a far cry from when the Velar range first touched down locally in 2017, where a staggering 48 variants were on offer for buyers.
The point of entry to the range has risen by $5353 with the removal of the previous entry-level variant, however the new base-level grade is actually marginally cheaper than the equivalent outgoing version.
Like many other JLR products, the Velar range will now be available with the new 3.0-litre turbocharged inline six-cylinder Ingenium petrol engine, which incorporates 48-volt mild-hybrid (MHEV) technology.
The P400 engine produces 294kW/550Nm, and allows the Velar to shift from standstill to 100km/h in 5.5 seconds.
MHEV tech has also been included on the sole diesel variant, the mid-spec D200 grade which employs a 2.0-litre turbocharged four-cylinder unit producing 150kW/430Nm, allowing for a fuel economy figure of 6.3 litres per 100km and CO2 emissions of 165 grams per kilometre.
The two entry-level P250 grades will carry over the existing 2.0-litre turbo-petrol four-cylinder engine, developing 184kW/365Nm while sipping 9.4L/100km of fuel.
All variants employ an all-wheel-drive set-up with power channelled via an eight-speed automatic transmission.
There are no plans to re-introduce the 404kW 5.0-litre supercharged V8 from the outgoing range, with the SV Autobiography Dynamic Edition only featuring in the pre-update range as a limited-run model.
One of the biggest changes in the update includes the latest iteration of the Pivi Pro infotainment system, which feature enhanced graphics and responsiveness, integrated Spotify and over-the-air software updates.
Active Road Noise Cancellation has been included, which monitors vibrations from the road surface to calculate and deploy the opposite phase sound wave needed to remove the noise from the cabin.
JLR claims the tech can result in up to four decibels of noise reduction, which can help reduce driver fatigue.
A new cabin air filtration system has also been adopted, which can reduce the levels of particulates, pollen and odours entering the cabin, making for an even more serene experience.
All new Velar grades will come standard with the R-Dynamic specification pack which gives the exterior a sportier look, while top-spec P400 grades will feature air suspension as standard.
Exact local specification is yet to be set, with JLR Australia saying spec levels will be finalised next month.
To the end of August, JLR Australia has sold 399 examples of the Velar, marking a significant 49.4 per cent drop over the same period last year.
2021 Range Rover Velar pricing*
| | |
| --- | --- |
| S P250 (a) | $87,000 |
| SE P250 (a) | $92,000 |
| SE D200 (a) | $96,000 |
| SE P400 (a) | $117,000 |
| HSE P400 (a) | $127,000 |
*Excludes on-road costs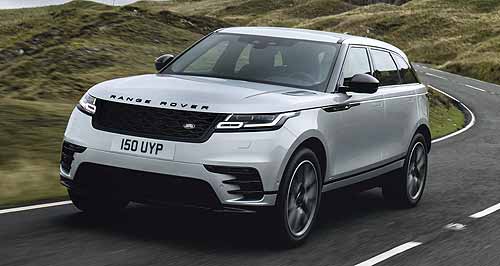 Read more
All new models
Range Rover Velar pricing
D180 HSE AWD

D180 R-Dynamic AWD

D180 R-Dynamic HSE AWD

D180 R-Dynamic S AWD

D180 R-Dynamic SE AWD

D180 S AWD

D180 SE AWD

D180 Standard AWD

D240 HSE AWD

D240 R-Dynamic AWD

D240 R-Dynamic HSE AWD

D240 R-Dynamic S AWD

D240 R-Dynamic SE AWD

D240 S AWD

D240 SE AWD

D240 Standard AWD

D300 HSE AWD

D300 R-Dynamic AWD

D300 R-Dynamic HSE AWD

D300 R-Dynamic S AWD

D300 R-Dynamic SE AWD

D300 S AWD

D300 SE AWD

D300 Standard AWD

P250 HSE AWD

P250 R-Dynamic AWD

P250 R-Dynamic HSE AWD

P250 R-Dynamic S AWD

P250 R-Dynamic SE AWD

P250 S AWD

P250 SE AWD

P250 Standard AWD

P300 HSE AWD

P300 R-Dynamic AWD

P300 R-Dynamic HSE AWD

P300 R-Dynamic S AWD

P300 R-Dynamic SE AWD

P300 S AWD

P300 SE AWD

P300 Standard AWD

P380 First Edition AWD

P380 HSE AWD

P380 R-Dynamic AWD

P380 R-Dynamic HSE AWD

P380 R-Dynamic S AWD

P380 R-Dynamic SE AWD

P380 S AWD

P380 SE AWD

P380 Standard AWD
Motor industry news
GoAuto can help you buy a new Range Rover Velar
Customer Terms and Conditions – New Car Lead enquires
Agreement
This is an agreement between GoAutoMedia Pty Limited ACN 094 732 457 of PO Box 18, Beach Road, Sandringham, VIC, 3191 ("we/us"), the owner and operator of the GoAuto.com.au website ("the website") and the person wanting GoAuto.com.au to provide them with a lead for the purchase of a new car ("you").
By completing a New Car Lead Enquiry, you agree to the terms and conditions and disclaimers and acknowledge the policies set out below.
Terms and Conditions
In order for us to effect a lead you must you must complete a New Car Lead Enquiry ("Enquiry").
We will call you as soon as possible after you complete the Enquiry and certainly no later than the next business day. When we call, we will discuss with you your new car requirements.
You consent to our passing on the Enquiry and your requirements to an appropriate authorised motor car dealer as a lead.
We will contact you again in approximately eight days following your initial enquiry to check on the progress of the Enquiry.
While we will provide the dealer with the Enquiry and details of your new car requirements, we take no responsibility for what happens after passing on that material as a lead.
You acknowledge that we are a new car information service providing new car editorial information, pictures and prices to our customers as a guide only. Any new car prices published on the website are the manufacturers' recommended retail prices and do not include delivery charges and on-road costs. Any authorized motor car dealer to which we pass on your Enquiry as a lead will provide you with full details of the price at which the vehicle will be sold to you.
You acknowledge that we do not sell motor vehicles. Any sale of a new car to you by a dealer after we have passed on your Enquiry to that dealer as a lead, is a sale by that dealer not by us.
Privacy Policy– New Car Lead Enquires
We take privacy very seriously. We understand that you will only complete an Enquiry if you can trust us to protect your personal information and use it appropriately. Our policy is to ensure that the personal information collected when you make an Enquiry is only used for the purposes of connecting you with an authorised motor car dealer.
We do not on-sell information collected from you or any other customer.
From time to time, we may email you with information or promotions that may be relevant for car buyers. You will continue to receive communications from us unless you tell us that you do not want to receive any advertising or promotional information in the future by unsubscribing from these communications.
Click to share
Land Rover models
All new models
Range Rover Velar pricing
D180 HSE AWD

D180 R-Dynamic AWD

D180 R-Dynamic HSE AWD

D180 R-Dynamic S AWD

D180 R-Dynamic SE AWD

D180 S AWD

D180 SE AWD

D180 Standard AWD

D240 HSE AWD

D240 R-Dynamic AWD

D240 R-Dynamic HSE AWD

D240 R-Dynamic S AWD

D240 R-Dynamic SE AWD

D240 S AWD

D240 SE AWD

D240 Standard AWD

D300 HSE AWD

D300 R-Dynamic AWD

D300 R-Dynamic HSE AWD

D300 R-Dynamic S AWD

D300 R-Dynamic SE AWD

D300 S AWD

D300 SE AWD

D300 Standard AWD

P250 HSE AWD

P250 R-Dynamic AWD

P250 R-Dynamic HSE AWD

P250 R-Dynamic S AWD

P250 R-Dynamic SE AWD

P250 S AWD

P250 SE AWD

P250 Standard AWD

P300 HSE AWD

P300 R-Dynamic AWD

P300 R-Dynamic HSE AWD

P300 R-Dynamic S AWD

P300 R-Dynamic SE AWD

P300 S AWD

P300 SE AWD

P300 Standard AWD

P380 First Edition AWD

P380 HSE AWD

P380 R-Dynamic AWD

P380 R-Dynamic HSE AWD

P380 R-Dynamic S AWD

P380 R-Dynamic SE AWD

P380 S AWD

P380 SE AWD

P380 Standard AWD
Motor industry news
---