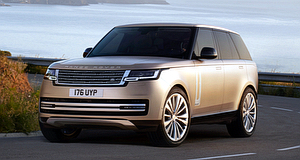 FIFTY-ONE years after the debut of the original Range Rover, arguably the genesis of the now-booming luxury SUV category, Jaguar Land Rover (JLR) has whipped the covers off its all-new fifth-generation Range Rover – one that will take the brand into the world of full electrification.
It's taken a while to arrive. Range Rover's eponymous flagship model typically runs to a slower life-cycle cadence than your typical car or SUV, and it's been nine years since the fourth-generation Range Rover first broke cover. However, while the fourth-gen broke new ground by moving to an all-alloy platform and introducing a diesel-electric powertrain, its replacement is even more forward-looking.
Traditionalists will appreciate that the designers haven't strayed too far from the Range Rover's established design template. In fact, they've barely deviated from the basic proportions and style lines at all. Besides the rear fascia (which boasts a cool blackout tail light graphic with vertical LEDs flanking a wide split tailgate) the difference lies in the details.
Flush-fit glass merges smoothly with door and roof sheetmetal, improving aero performance and providing a sleeker look, while cutlines have been tightened and features like the pulled-back corners of the headlamp clusters being trimmed and neatened. The side gill motif remains but it's now basically contiguous with the front doors, while the door handles retract flush with the doorskins a'la the Range Rover Velar.
Though its exterior may, at a glance, appear very familiar, we assure you – there's almost nothing in the new Range Rover that's shared with the old one – or any other present-day Rangie for that matter. Like its predecessor it's built atop an aluminium architecture, but this one is box-fresh – dubbed MLA-Flex by JLR, the fifth-gen Range Rover is the first vehicle to use it.
As before, short wheelbase and long wheelbase bodystyles are offered, with dimensional growth taking the overall length of the SWB variant to 5052mm (up 52mm), and wheelbase to 2997mm (up 75mm). For the LWB, those dimensions swell by 52mm and 77mm to sit at 5252mm overall, and 3197mm between the axles.
The platform is designed to be more rigid and offer better protection, with up to 50 percent increases in structural rigidity compared to the previous model. While still mostly aluminium alloy, MLA-Flex makes use of several high-strength steel hoops in the door frames and around the passenger cabin to provide greater crash survivability for those inside.
That structural stiffness also pays dividends when it comes to refinement. JLR claims that the new Range Rover transmits 24 percent less noise into the cabin, just from the structure alone. On top of that, high-tech solutions for NVH suppression like active noise cancelling help keep the Range Rover's cabin quiet and serene, with four external microphones picking up ambient noise and the stereo system piping opposite-phase sounds to headrest speakers to nullify them.
It's not all electronic trickery though. Cabin comfort gets another boost from an ergonomic rethink, facilitated by the MLA-Flex platform, with Range Rover's designers retaining the same H-point (the point at which an occupant's hips sit above the ground) as before, but putting the heels of rear seat passengers lower for better under-thigh support and add 44mm more knee room. Vision from the driver's seat also improves thanks to careful shaping of the A-pillar and the addition of a quarterlight window in the doors to help see around the wing mirrors.
The new Range Rover's dash design retains the strong horizontal motif of the fourth-gen, but with a much larger curved-glass central infotainment display sitting atop a trimmed-down ventilation control panel, and hovering away from the dashpad rather than being inset within it. Running JLR's Pivi Pro infotainment system, the main screen measures 13.1 inches across.
The all-electronic instrument panel is also designed to look like a floating pane of glass, measuring 13.7 inches from corner to corner and boasting high-definition graphics and driver-configurable layouts. Other infotainment highlights include a built-in wifi hotspot, wireless device charging, wireless Apple CarPlay, wireless Android Auto, an 8-inch rear seat touchscreen display, eight USB ports (the rear USB-C ones being able to charge a laptop each) and a household power outlet.
In case the above isn't sufficient enough to impress your neighbours, perhaps the Range Rover's available power-operated doors will do the trick. Able to open themselves in three seconds and close by either touching a button on the door itself or via the infotainment screen, the cool factor is high. In case you're wondering, they're a $3700 option in Australia.
The tailgate is another intriguing piece of functional design. With an optional 'Tailgate Event Suites' package, the boot floor's flip-up divider can form a backrest, essentially turning the tailgate into a rear-facing bench seat. The option goes a step further, by adding lights and speakers in the tailgate, along with a set of cupholders. Want it? It's $2400 on SE and HSE variants, $900 for Autobiographys, and standard on the First Edition.
But what may be of most interest to prospective Range Rover buyers is the news that there's now a third-row option. Available in long-wheelbase variants, the third row adds two more seats behind the second row, which power-fold flush with the boot floor and, when extended offer enough space for a six-foot adult to sit behind another six-foot adult. Face-level air vents, charging ports and sizable side windows should give those in the third row respectable comfort.
In Australia, that third row option will be available only on the Range Rover Autobiography 7-seat LWB with either the 3.0-litre inline six D350 diesel, or the 4.4-litre twin-turbo V8 P530 petrol, priced at $286,600 and $304,700 respectively.
And speaking of powertrains, four will be initially offered in Australia when the order books open on October 28 – a 221kW/650Nm 3.0-litre diesel inline six for the D300, an uprated version of that engine with 258kW/700Nm for the D350, a 294kW/550Nm 3.0-litre turbo petrol inline six for the P400 and the 390kW/750Nm 4.4-litre twin-turbo petrol V8 of the P530, which can sprint to 100km/h in 4.6 seconds.
The range will expand on January 27 when a plug-in hybrid (PHEV) variant will be added, mating the 3.0-litre turbo petrol inline six to an electric motor and under-floor battery to offer 375kW, 700Nm and a real-world electric range of 80km. The range-topping SV and SV Autobiography variants will also join the Range Rover family at the same time. In 2024 a fully-electric Range Rover variant will be added, a first for the brand as the Land Rover group (which incorporates Range Rover) heads toward a planned 60 percent zero-emissions lineup by 2030.
In Australia, the Range Rover lineup begins at $220,200 for the D300 SE, topping out at $312,500 for the First Edition P530. See below for the full pricing table. Deliveries of D300, D350, P400 and P530 variants will commence in June 2022, with deliveries of the PHEV and SV variants set for sometime in the second half of next year with pricing also to be confirmed.
2022 Land Rover Range Rover pricing*:
| | |
| --- | --- |
| SE D300 (a) | $220,200 |
| SE P400 (a) | $225, 500 |
| HSE D350 (a) | $241,400 |
| HSE P530 (a) | $259,500 |
| Autobiography D350 (a) | $279,600 |
| Autobiography P530 (a) | $297,600 |
| Autobiography LWB D350 (a) | $285,100 |
| Autobiography LWB P530 (a) | $303,100 |
| Autobiography LWB 7-seat D350 (a) | $286,600 |
| Autobiography LWB 7-seat P530 (a) | $304,700 |
| | |
| --- | --- |
| First Edition D350 (a) | $298,800 |
| First Edition P530 (a) | $312,500 |
*Pricing excludes on-road costs.
---