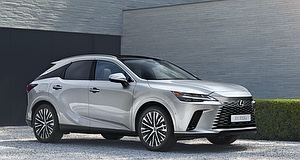 LEXUS has revealed its fifth-generation RX large SUV, replete with more distinctive styling, myriad refinements and improved tech features, as well as a diverse line-up of electrified powertrains.
The range is headlined by the 500h F Sport Performance. The flagship – ostensibly Lexus' first stab at producing a high-performance version of its large SUV – is powered by the brand's first turbocharged petrol-electric hybrid power unit (a 2.4-litre turbo-petrol engine combined with a rear-mounted eAxle electric motor) that produces combined peak outputs of 273kW and 550Nm.
"The RX is a foundation of the Lexus brand both globally, but also here in Australia (where 40,000 units have been sold since 2003)," said Lexus Australia chief executive John Pappas.
"The all-new RX is the next step in the evolution of the Lexus brand as we move towards greater electrification of our range, while adding to the Lexus Driving Signature of dynamic, enjoyable and faithful performance."
Underpinned by the GA-K platform, the fifth-gen RX retains the overall length of its predecessor (4,890mm), but its width has increased by 25mm (to 1,920mm) and its height has decreased by 10mm (1,695mm). Apart from having wider tracks (15mm front, 45 mm rear) than the outgoing model, the large SUV's centre of gravity and overall weight has been reduced by 15mm and 90kg respectively.
It may be identical in length to its predecessor, but the new model rides on a 60mm longer wheelbase (2,850mm), which benefits interior packaging. The distance between the front and rear hip point has increased by 12mm, while the luggage compartment has gained an additional 50mm, Lexus says.
Design wise, the RX has a more planted stance and an especially expressive front-end design, the latter courtesy of the raised bonnet profile, a more "three-dimensional" spindle grille (with the body colour bleeding down to the lower edge of the Lexus emblem) and pushed back A-pillar bases.
The side window glass is styled in such a way that it sweeps across the C-pillar to blend into the rear screen, which creates a floating-roof effect, while wing-shaped LED tail-light lenses (bridged by a bold LED bar) wrap around the body's sides to emphasise the large SUV's wider and lower silhouette.
While powertrains and model configurations for the Australian market are yet to be confirmed, Lexus did say that the RX range's global line-up would also include a 205kW 2.4-litre inline-four turbo-petrol (RX 350), a 180kW 2.5-litre inline-four hybrid (RX 350h) and a 225kW plug-in hybrid (RX 450h+).
"The 2.4-litre turbo-petrol and 2.5-litre PHEV variants (will be) available with all-wheel drive, and the 2.5-litre HEV in either AWD or front-wheel drive" guises, the Japanese premium marque said.
The RX's suspension setup comprises MacPherson struts up front, with a newly developed multi-link arrangement at the rear. Lexus says it optimised the shock-absorber positioning and suspension-mount bushings to improve body control and on-road refinement (less vibration) and the marque employed highly rigid die-cast aluminium for the steering to "ensure more linear steering response".
The RX 500h F Sport Performance variant is distinguished by its sportier spindle grille and bumpers, black stainless-steel exterior trim, 21-inch aluminium wheels and six-piston front brake calipers.
Said to be capable of dispatching the 0-100km/h sprint in about six seconds, yet consume between 8.2 and 8.5 litres per 100km, the flagship RX uses its 2.4-litre turbo-petrol engine and six-speed automatic transmission, as well as a high-output 80kW (eAxle) rear-mounted motor, to drive all four wheels via the electrically assisted Direct4 all-wheel-drive setup that debuted on the RZ battery-electric SUV.
Apart from adaptive variable suspension (AVS) and dynamic rear steering (DRS), the RX 500h F Sport Performance features Active Noise Control, which "eliminates the typical noise characteristics of the four-cylinder turbocharged engine" to provide "a pleasant driving experience with a great Lexus sound".
As for the interior, the new RX's interior is based on the Tazuna concept, a human-centred design philosophy where the driver "is intuitively connected with the car to better concentrate on driving, while still creating a spacious, open interior that encompasses all passengers", Lexus says.
"A powerful blend of Tazuna cockpit design and luxury SUV spaciousness, with materials like high-quality leathers and Takumi-crafted suede embossed with the Lexus 'L', is exactly the kind of bespoke look we aimed for when designing this interior," said interior designer of the RX, Jota Kusakari.
Unsurprisingly, large digital displays (including the all-electronic instrument cluster and touchsceeen infotainment array dominate) the otherwise minimalist fascia, while the "Lexus Mood Selector" allows occupants to tailor the RX's ambient lighting from a palette of 64 colours and 14 bespoke themes.
Thanks to the fact that access to many of the RX's onboard functions have been moved to the 14.0-inch infotainment-screen menu or can be operated via voice commands, the Japanese premium brand has dispensed with a controller/trackpad on the centre console, yet classic features such as a panoramic sunroof, tri-zone climate control, seat warmers for all seats (ventilated front seats are option) remain. Furthermore, high-end variants will feature 21-speaker Mark Levinson Premium Surround Sound.
Apart from improvements to the interior packaging (including a lowered floor), the height of the large SUV's loading sill has been reduced by 30mm for make it easier to load items into/out of the bay.
The traditional door-handle mechanism has been replaced with an electrically controlled e-latch switch system, plus a smartphone can be used as a digital key (after a dedicated app had been installed), to lock/unlock doors, start the engine (without operating the screen) and so forth.
In terms of safety and driver assistance systems, the RX is underpinned by the latest generation of Lexus Safety System+, which has been transplanted to the all-new RX right from the recently unveiled.
It incorporates such features Proactive Driving Assist (PDA), pre-collision safety (PCS), dynamic radar cruise control (DRCC), lane departure Alert (LDA), lane-tracing assist (LTA) and Safe Exit Assist (SEA).
Further advanced driving support technology is offered through the Lexus Teammate concept, featuring Advanced Drive traffic-jam support and (remote) Advanced Park, while various functions can be updated, added, or their performance improved, via over-the-air software updates, Lexus says.
"The all-new RX incorporates the latest technology and safety features to deliver the ultimate in refinement, comfort and luxury for our customers," said Mr Pappas.
"The new powertrains will deliver exhilarating performance and broaden the RX's appeal to an even wider range of customers."
The local line-up, specs, pricing and on-sale date of the new RX will be announced later this year.
---