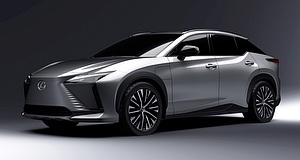 LEXUS will soon unveil the production version of its first standalone battery-electric vehicle – the RZ 450e – and the Japanese premium marque recently released fresh images of the upcoming model in conjunction with its 2021 global sales data.
In December 2021, Toyota global president Akio Toyoda announced that no fewer than 16 new battery-electric vehicles – of which four were Lexus models – at the brand's Megaweb showcase in Tokyo, where he reiterated that Lexus would become an electric-only brand by 2035.
"In 2022, we will release a series of new models", Lexus International President Koji Sato said this week. "Starting with the BEV-exclusive model RZ in (the Northern Hemisphere) spring."
That means we'll get to see the full reveal of the RZ 450e during the second quarter of the year.
These images give us a better look at the upcoming all-electric medium crossover's profile and rear-end styling. It's said to be of a similar size to the new NX, which went on sale in Australia last month (see link below) and is based on the same e-TNGA platform as the Toyota bZ4X (which is expected to arrive in local showrooms towards the end of the year) and the Subaru Solterra.
Compared with its Toyota and Subaru cousins, however, the RZ has sportier styling and is said to incorporate bespoke modifications aimed at elevating "(its) driving experience to the next level".
In profile, it looks more-low slung than its NX sibling (courtesy of blacked-out C-pillars), while the kicked-up rear end features a slim light bar and LEXUS lettering (as employed on last year's LF-Z concept) – they are likely to become common cues of all the brand's standalone BEVs.
The vice-president of Lexus' European division, Pascal Ruch, told British motoring title Autocar that it was a priority for Lexus to offer "exhilarating driving performance" and hinted that the brand would offer variants of future BEVs that "support the sporty position of the brand".
The RZ 450e is expected to offer "lighter and more compact motors", increased body rigidity, steer-by-wire technology and Direct4 fully variable four-wheel-drive technology. Ruch added that the newcomer would provide owners with "an engaging and rewarding driving experience".
The Direct4 allows the RZ 450e to apportion power delivery across both axles, which means it can dynamically switch between front, rear and all-wheel drive as situations require. Lexus will employ this set-up on all future bespoke BEVs, which presupposes a standard twin-motor set-up.
Both domestic and global demand for Lexus vehicles increased more than five per cent in 2021, resulting in 760,015 worldwide deliveries with Australian deliveries accounting for 9290 units. The brand's local subsidiary's tally was within just 322 sales of the record 9612 sales set in 2019.
---