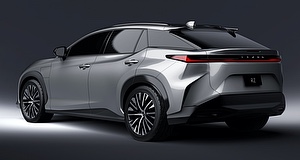 AS YOU read this, Lexus will be gearing up to fully unveil the RZ450e, its first purely-electric model and a rival for the likes of the Mercedes-Benz EQC, BMW iX, and Tesla Model Y.
Teased in December 2021 with an exterior unveiling, the rest of the RZ450e will be revealed to the world on April 20, including its all-important range, power, battery size and charge time stats.
A local future for the RZ has yet to be locked in, but thus far Lexus Australia is reporting strong interest in its more electrified options from its customer base.
Speaking with GoAuto at the local launch for its hulking LX off-roader, Lexus Australia chief executive John Pappas said uptake of its all-electric UX300e variant was tracking strongly since launching in November last year, with 130 orders generated for the $74,000 EV to date – a number that the company only expected to achieve over a full 12 months.
Another electrified Lexus has also proven a runaway success, with the all-new NX achieving a strong result right out of the gate since it launched in February.
"NX started really, really well. When that car was coming, I knew it was going to be very strong for us, it's bringing new buyers to Lexus as well," Mr Pappas enthused.
"It has a really high conversion rate. Once people see it, they come in, they test drive it, it's working, it's doing really well. That car is really a brand-building machine for us."
In March, its first full month on sale, the NX range managed to snare the title of top-selling premium vehicle, period, even outselling the Mercedes-Benz GLC wagon (though not if you roll GLC coupe numbers together with the wagon).
For Lexus, a brand which typically trails its German rivals by a considerable margin, it's a compelling endorsement of the NX's appeal. That said, according to Mr Pappas there's still plenty of meat on the NX bone that can't be unlocked until supply improves.
"We've had some challenges with NX in the first quarter on production. In March it was the number-one selling model in luxury [segment], but we've had a lot of cuts on NX in terms of production that have impacted us," he said.
"With those cuts the petrol models are up to six months in lead times, but the NX hybrid is now reaching twelve-months plus, so that's a challenge.
"With fuel prices and everything going on there, the NX plug-in hybrid and [regular] hybrid are both doing really, really well from an order intake point of view, and with fuel prices, obviously, everyone is trying to save a buck with their fuel bill, and what a great powertrain to do that."
Besides being one of Lexus' freshest models, the NX also carries a significant USP within the Lexus showroom: right now, it's the only plug-in hybrid available from the brand.
The NX450h+carries an 18.1kWh lithium-ion battery pack and a dual-motor EV powertrain that can operate independently of its 2.5-litre petrol combustion engine, delivering an electric-only range of 87km on a single charge.
Able to be charged from a wall outlet, it – and the aforementioned UX300e battery-electric – are the first models to deviate from Lexus' "Self-Charging Hybrid" rhetoric, which was how the company described its conventional parallel hybrid vehicles like the CT200h and RX450h.
With the ability to be run most of the time on battery power alone and charged up cheaply from a wall outlet at the owner's convenience, the NX450h+'s popularity at a time when global oil supplies were being squeezed tight by the Ukraine conflict is not hard to comprehend.
Whether bowser prices will have settled by the time new owners have endured their year-long lead time remains to be seen, however it's clear that greater powertrain diversity is delivering wins for Lexus down under.
---