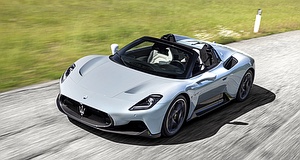 SEEMINGLY endless production and shipping delays continue to depress global car markets, with Australian passenger car and SUV sales in the first six months of 2022 down 6.5 per cent compared with the same period in 2021.
Yet some brands at the top end of the pecking order have risen above this period of market mediocrity.
Aston Martin, for example, has sold 68 units in the first half of 2022. It is usually the SUV models that carry the load when things go a bit pear-shaped for exotic brands but in Aston's case, coupe and convertible models have doubled the sales of its SUV, the DBX.
Combined sales of coupes and convertibles in the Vantage, DB11 and DBS line-ups reached 45 units in the first half of 2022, up 21.6 per cent on 2021, while the DBX found only 23 buyers (down 25.8 per cent on the previous period) attributed to supply issues.
This total of 68 sales for the six months included a 171.4 per cent boost to the month compared with June 2021, but no change to the total sales on a year-to-date basis.
A British counterpart that shares the similar rarified air of expensive prices, Bentley, performed better with 119 sales and a 14.3 per cent increase in first-half sales.
Unlike the Aston Martin scenario, Bentley's sales weight was firmly with its SUV, the Bentayga. This wagon found 58 buyers, a 45 per cent increase on last year, while the Flying Spur sedan sold to 12 people (down 25 per cent) while Continental V8 and Speed coupes sold 49 units, down a modest 5.8 per cent.
High flyers from Italy had similar good fortune. Ferrari sales are up 21.8 per cent this year to date with 106 deliveries, sourced from the Roma, 296GTB, F8 Tributo, 812 Superfast and SF90 coupes, as well as the Portofino and F8 Spider convertibles.
Maserati showed success with its new MC20 finding 13 buyers, up from a single sale of the outgoing GranTurismo coupe and convertible range in the first half of 2021.
The brand was also buoyed by its sole SUV, the Levante, that sold a whopping 234 units this first half, up 11.4 per cent, offset by the five sales of the flagship Quattroporte sedan (down 44.4 per cent on 2021) and 61 sales of the smaller Ghibli sedan, down 15.3 per cent.
Exotic brands aside, there was nothing speedy about the broader sportscar category, which was down a hefty 32.9 per cent in the first six months compared with the same period in 2021.
Since last year, the models no longer available include the Audi A3 convertible, Hyundai Veloster, Nissan 370Z and Toyota 86 – all of which once boasted decent sales. The Veloster alone sold 147 units in the six months of 2021 as it ended its run and the 86 found 201 new garages.
In 2020, the Veloster and MX-5 sold 639 and 457 units respectively so they were an important contributor to the bottom line of their brands.
Ford Mustang sales have plunged, falling 57.6 per cent this year (760 sales) compared with 2021 (1792) while the more affordable Mazda MX-5 is down 55.9 per cent (444 new buyers in 2021 compared with 196 this year).
All sectors except heavy trucks (commercial vehicle data not included here) are down. Car and SUV sales to Jun total 386,328 units, down from last year's 413,229, with sub-sectors holding their heads above water being the medium and large class of both cars and SUVs.
The rest are taking varying degrees of pain with the most battered being the micro (segment favourite Kia's Picanto was down 43 per cent), small (the Mazda3, Honda Civic, Ford Focus and Kia Cerato all fell) and upper large car segments, and the small (Kona, ASX and Vitara in particular) and upper-large (Land Cruiser down 49 per cent) SUVs.
Much of that is attributed to the COVID-related issues – including labour force slowdowns, raw material shortages, component shortages such as semiconductors, and shipping and distribution.
---