IT SEEMS like an eternity since Mercedes-Benz's first contemporary electric car – the EQC medium SUV – appeared on the scene, debuting the Stuttgart firm's 'EQ' sub brand.
Much has happened since GoAutofirst drove that car in Norway more than two years ago, yet there's finally a glimmer on the horizon as Mercedes-EQ prepares to rapidly expand its electric portfolio
The entrée for this burgeoning EQ family is the EQA – a small electric SUV based closely on the second-generation Mercedes-Benz GLA that launched internationally in December 2019.
What that means is, much like the GLC-based EQC before it, the EQA is an EV development of an existing platform (MFA2 in this instance), rather than built on dedicated EV architecture as per the forthcoming EQS electric limousine.
While that makes sense from a financial perspective, it does mean the EQA is something of a compromise. Plenty has been changed over the GLA, including the front and rear styling for visual difference and improved aerodynamics (0.28Cd), but has Mercedes-Benz done enough to make the EQA feel like a step forward, rather than an EV stop-gap?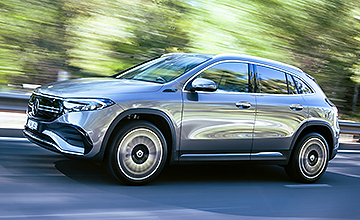 ---