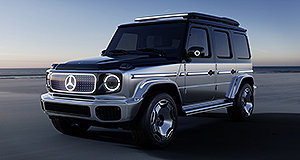 MERCEDES-BENZ has started to lay the groundwork for the 2024 introduction of its all-electric G-Class with some new trademark filings with IP Australia revealing that at least two variants have been earmarked for our market.
Officially dubbed the EQG, an electric G-Class has been on the cards for months now with the 2024 global launch being confirmed by none other than Daimler AG board of management chairman Ola Kallenius back in July at Mercedes' most recent brand strategy update.
"In 2024 we will launch our full-electric G-Class … it will continue the great story of our G-series," he said.
That didn't turn out to be an empty promise either with Mercedes-Benz unveiling the Concept EQG at IAA Mobility 2021 last month, however no concrete details like possible power outputs, range or performance were revealed.
Now with these new patent applications however, a few of the widespread dots can be connected to help draw some possible conclusions about what will surely be the most capable model of the EQ portfolio.
Formally submitted on August 23 the two Australia trademark applications point to the likely introduction of an EQG560 variant and a better-specced EQG580 variant, the latter of which has already been accepted and entered into its opposition period.
Given the G-Class' fabled reputation and heritage as a capable off-roader, both variants are virtually guaranteed to score all-wheel-drive, especially so given the concept car has an electric motor driving each wheel (four in total).
The Concept EQG also promises the electric equivalent of both high- and low-range gearing with the whole package built around a traditional ladder frame chassis and a solid rear axle.
Whether or not these off-road-friendly features are carried over to the production version remains to be seen, but Mercedes is already touting the EQG as "an uncompromising off-roader".
Delving into the variant names meanwhile gives us a rough idea as to how much power and torque the trademarked examples may possess, as well as a loose impression of their range.
In the EQG580's case, the '580' nomenclature has already been stamped onto the back of an EQS.
All EQS variants use the same 107.8kWh lithium ion battery, which in the top-spec EQS580, powers a dual-motor drivetrain developing a muscular 385kW/855Nm.
Outputs like that would suit the high-end EQG580 down to ground in its pursuit of off-road capability and the usual Mercedes on-road manners, especially given the amount of 4×4 buyers who use their vehicles to tow.
As for the EQG560, you could safely expect it to come with a little less grunt and maybe even a few standard equipment concessions, but the trade-off should be a lower asking price – not that affordability has G-Class hallmark in recent years.
In terms of range, it's highly unlikely any of the EQG range will be able to match their limo stablemates' figures on account of their boxy shape, but they should still be able to comfortably cover 500km on a single charge given the progress Mercedes is making with its battery tech.
The local arm of Mercedes-Benz Cars was predictably coy about commenting on the trademark filings, however media relations and product communications manager Ryan Lewis did confirm that an electric G-Class would be on the radar if such a vehicle was made available.
"All vehicle platforms introduced (globally) by Mercedes-Benz from 2025 will be EV-only, and Mercedes-Benz will go fully electric with its entire new vehicle fleet by 2030 where market conditions allow," he said.
"The aspirations of Mercedes-Benz Australia are aligned with the global vision, and we are working towards the same goals with excitement.
"Should an all-electric G-Class become available to us, we would certainly evaluate the possibility of a local market introduction."
For the time being then all we can do is wait and see – between now and the EQG's introduction in 2024, Mercedes will launch the EQB compact SUV, EQE large sedan and performance-minded EQS53 AMG limo.
---