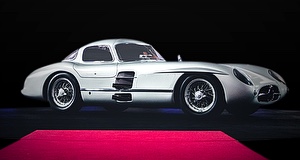 MERCEDES-BENZ has sold one of only two 300 SLR Coupes that it produced.
Purchased on behalf of an unnamed client for an unprecedented €135 million ($A203 million), the 1955 Mercedes-Benz 300 SLR Coupe is the sister car to Sir Stirling Moss' Mille Miglia record-breaking, open-cockpit 300 SLR, which covered 992 miles (1600km) in 10 hours, seven minutes and 48 seconds on public roads.
Both vehicles were retained from new by Mercedes-Benz with the auctioned vehicle having covered just 6045km in its entire lifetime.
The car, which Mercedes-Benz said "would never be sold" changed hands at an invitation-only auction in the firm's museum. The funds from the sale will benefit a charitable fund being set up by 'Benz to provide educational and research scholarships for young people in the areas of environmental science and decarbonisation.
"We are proud that we can contribute with our historical collection to this initiative that connects the past with the future of engineering and decarbonisation technology", said Head of Mercedes-Benz Heritage, Marcus Breitschwerdt.
"The private buyer has agreed that the 300 SLR Uhlenhaut Coupe will remain accessible for public display on special occasions. The second, original 300 SLR Coupe remains in company ownership and will continue to be displayed at the Mercedes-Benz Museum in Stuttgart."
Considered a crown jewel of the Mercedes-Benz collection, the sale of the SLR 300 sets a record for the sale of a car – believed to stand at $US78m ($A111.1m) for the private sale of a 1962 Ferrari 250 GTO, which took place in 2018 – and places the car in the top 10 most valuable items ever sold at an auction in any collecting category.
Writing for British magazine Autocar in 1957, Gordon Wilkins said of the SLR 300, "Remember that this car is not for sale, and in this form never will be: it is a racing car adapted for road use with certain experimental objectives in view… It has to be mastered like a mettlesome horse.
"To have drive it has eclipsed all previous experiences in 20 years of test driving on the world's finest cars, and I do not expect to find its match for a long time to come."
The 1955 Mercedes-Benz 300 SLR Coupe was produced as a development of the open-topped two-seater sports-racing car built by Mercedes-Benz for the 1955 season and driven by Grand Prix greats such as Stirling Moss, Juan Manuel Fangio and Peter Collins.
Based heavily on the single-seat W196 R Grand Prix car – with its complex 225kW 3.0-litre straight-eight engine – the racing example of the 300 SLR dominated the 1955 World Sportscar Championship and Sir Stirling's record drive at that year's Mille Miglia has been described as one of the greatest-ever feats of motor racing.
Daimler-Benz engineer and motorsport chief commissioned just two closed-cabin versions of the SLR 300, with the models' styling based heavily on the famous SL "Gullwing". A pure competition car, the SLR 300 was used in practice and as a high-speed shuttle vehicle for Mr Uhlenhaut between European motorsport events.
When tested by Autocar in 1956, the SLR 300 Coupe performed a 0-60mph (96.5km/h) run of 6.9 seconds, 0-120mph (193.1km/h) in 20.3 seconds, and a maximum speed of 176.47mph (284.6km/h) – though it must be noted that the test vehicle was equipped with road-going mufflers at the time, which inhibited its full potential.
Mercedes-Benz says the 300 SLR Coupe was capable of 180mph (290.3km/h), making it one of the fastest road-legal cars to have been created at the time.
The sale of the 1955 Mercedes-Benz 300 SLR Coupe follows 18 months of lobbying by British expert and dealer Simon Kidston.
Speaking on behalf of the buyer, Mr Kidston said: "If you had asked classic-car experts and top collectors over the past half a century to name the most desirable car in the world, there's a good chance that they would have said the Mercedes-Benz 300 SLR.
"It's a combination of exotic engineering, all-conquering racing history, the power of the Three-pointed Star on its nose and the fact that one had never, ever been sold. Many collectors had tried, all had failed.
"That was what the entire motoring world thought, but times change, and if you don't ask, you'll never know. A long-standing relationship with the Mercedes-Benz Museum helped, but even after 18 months of patient lobbying, we didn't know if or how they would consider letting the 300 SLR out of captivity until just before it happened.
"For everyone involved, and especially the new owner whom we represented, this was a once-in-a-lifetime chance to buy the Mona Lisa of cars," he added.
---