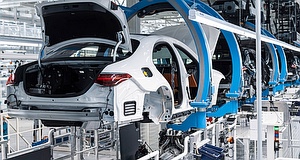 MERCEDES-BENZ has pledged to halve its passenger-car carbon footprint by 2030 (compared with the level of CO2 it produced in 2020), at which time it will source 70 per cent of its energy needs for production via renewable sources, the brand says.
The Three-pointed Star says the roll-out of solar and wind projects at its plants, coupled with power-purchase agreements, will assist it in driving toward eliminating emissions in its vehicle fleet, production plants and supplier networks; Mercedes-Benz CEO Ola Källenius described climate change as "our generation's most important task".
Mr Källenius said Mercedes-Benz's environmental focus meant suppliers that wished to do business with the German firm would need to have sustainable business strategies.
"Sustainability will be an awarding criterion. If you want to do business with us in the future, you need to have a sustainable business strategy," he said.
Mercedes-Benz is gradually electrifying its vehicle fleet and expects half of all its global sales to be electrified by 2025, with an all-electric fleet by the end of the decade (where market conditions allow it). Its current portfolio comprises just six battery-electric models.
"The desire for individual mobility keeps growing. Our mission is to meet this in a sustainable way," added Mr Källenius.
In the United States, Mercedes-Benz is preparing to begin electric-vehicle production at its Birmingham, Alabama facility where its EQS SUV will start rolling off the line in couple of months' time. This will be followed by assembly of the EQE SUV from October, with an eventual output of 6000 vehicles per month, AutoForecast Solutions reports.
Last month, Mercedes-Benz also opened a battery-production facility at its Alabama site (see link below) and said it would begin sourcing battery cells from within the United States by 2030. Japanese battery supplier Envision AESC will build a new production facility in the US to supply Mercedes-Benz's new-generation battery components.
Furthermore, the company's Vance, Alabama assembly plant will draw its power from the nearby Alabama Power solar farm – the 80-megawatt facility is the subject of a 15-year power purchase agreement, which will see Mercedes-Benz receive the entire electric output from the project once it goes live in 2024.
"It's our ambition to make all Mercedes-Benz factories renewable energy production sites," said Mercedes-Benz production and supply chain head Jörg Burzer.
"Going forward, we will increase our use of clean energy, and we will produce it on-site. We not only want to produce the most desirable cars in the world, we want to produce them sustainably. Mercedes' factories are already CO2-free for electricity needs."
Importantly, Mercedes-Benz is also targeting the emissions generation of its electric-vehicle batteries, because that component accounts for more than half of a BEV's life-cycle CO2 emissions. It says that by shifting to CO2-neutral cell production, it is possible to cut emissions for battery-pack production by 20 per cent.
The company is working on energy-dense chemistries geared toward long-range models and is also investigating less expensive (if also less powerful) lithium iron phosphate, or LFP, batteries for its entry-level models.
With Automotive News Europe.
---