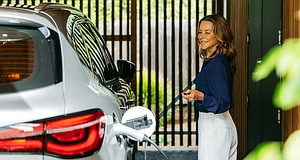 MG MOTOR Australia and New Zealand says it is leading the way in helping thousands of EV chargers to be installed across regional New South Wales by covering costs not covered by recently introduced state government grants.
Recently announced state government grants will see up to 3500 electric vehicle chargers installed across regional areas of the state.
MG Motor says it will cover the difference in cost for successful applicants of the regional grant who have purchased a MG ChargeHub, effectively making the unit free for the owners of hotels, motels, wineries, cafes, restaurants, museums, and other tourist-friendly sites.
"The NSW state government grant covers 75 per cent of the purchase cost towards buying and installing up to four alternating current (AC) destination chargers per site location. MG Motor Australia will cover the remaining 25 per cent if a MG EV ChargeHub is purchased and the grant successfully approved," MG Motor Australia said in a statement.
Under the scheme, the NSW state government will also cover 50 per cent towards the cost of a two-year charger software subscription.
The offer is in addition to the MG Hotel Subsidy Scheme announced at the end of last year in which the company offered up to 3000 heavily discounted EV chargers for regional hoteliers across the country.
As reported by GoAuto previously, the MG ChargeHub is available in three-phase 7kW and 11kW configurations from $1990 and $2090 respectively exclusive of installation.
The weather resistant ChargeHub unit may be wall or pedestal mounted and is Open Charge Point Protocol (OCPP) compliant, ensuring it is compatible with any Type 2 electric vehicle on the market in Australia.
"We want to grow local economies and support small businesses in areas impacted by COVID-19, bushfires and floods, and that's why we're filling the gap in cost for our MG EV ChargeHub in conjunction with the grant," said MG Motor Australia and New Zealand CEO Peter Ciao.
"This initiative underlines MG Motor's commitment to the Australian community which has supported us.
"When we launched the MG ZS EV in late 2020, we offered the model at a price that delivered great value to customers. This has, in turn, changed the conversation about pricing of electric vehicles in Australia.
"We have achieved our ambition of delivering value and driving discussion. Now, we take the next step by supplying charging hardware that can be used by many electric vehicle owners in Australia.
MG says the low-profile design of its ChargeHub unit means it is both compact and low impact. The unit incorporates RGB LED surrounds, a discreet Type 2 plug cradle, and a five-metre-long cable. It is also 4G, ethernet and Wi-Fi compatible, and is supplied with two RFID cards to ensure charging security and trackability.
The chargers will be able to provide top-up charging to a wide variety of EV models, the numbers of which are growing rapidly across the country, and in NSW in particular.
Businesses including the Junee Liquorice and Chocolate Factory have been quick to seize on the offer, with managing director Neil Druve saying the installation of an MG EV ChargeHub will assist in creating sustainable tourism in the region.
"We wanted to provide a greener service for our visitors (and) part of being organic and conserving the planet aligns with our personal and professional philosophy for being kind to the planet," said Mr Druce.
"What we don't want is turning the planet into a desert. Organics and conserving nature go hand in hand, and that's why I've chosen to install the MG EV ChargeHub at my business in Junee."
---