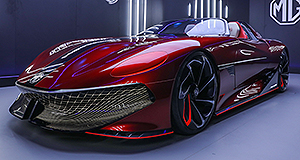 LESS than a fortnight after its debut at the Shanghai motor show, MG Motor has confirmed its radical open-top Cyberster electric sportscar concept will be going into production, including a right-hand-drive version.
The Chinese brand broke the news via its social media channels with the Australian subsidiary quickly backpedalling on its recent comments shooting down a local introduction, with a spokesperson this week confirming to GoAuto that MG Motor Australia's hand is firmly in the air.
"We're excited to confirm that the Cyberster electric sportster will be offered in both left- and right-hand-drive configuration," an MG Motor Australia spokesperson said.
"As part of our Electric for Everyone strategy, MG Australia will now examine the Cyberster's potential for the Australian and New Zealand markets."
No timeframes have been confirmed as yet however GoAuto understands that the reception the car received at its debut has accelerated the production plans.
For the uninitiated, the Cyberster is underpinned by MG's new-generation R-Tech EV architecture with the brand claiming a sub-three-second dash from 0-100km/h and a range of almost 800km.
While no specific details of the battery-electric powertrain have been confirmed, such brutal levels of performance and range could only be made possible by a twin or even triple electric motor set-up paired to a battery capacity north of 90kWh.
Design-wise, MG says the Cyberster draws inspiration from the classic MGB of the 1960s but blends it with a heap of new-age features and technology.
Like the MGB, the cabin is almost perfectly centred between the axles with a high belt line and low windscreen while the overhangs are also decidedly minimal which should be sure to result in some go kart-like handling characteristics when paired with the short wheelbase.
Befitting of the futuristic exterior and ultra-modern platform, the Cyberster's interior has been designed under the "digital fibre" philosophy with a "driver-centric layout".
Split into two different compartments – driver and passenger – the cabin crown jewel is the one-piece dashboard and centre console which swoops in from the far corners of the windscreen.
In front of the driver is a digital instrument cluster and a steering wheel which looks to have been lifted straight out of a racing simulator while occupants sit on red and white 'Zero Gravity' leather seats.
The Cyberster is the first dedicated sportscar to emerge from the once-fabled marque since its Chinese rebirth last decade with the idea of a new performance model being teased and hinted at for some time now.
MG sold 8728 new vehicles through the first quarter of 2021, up 163.2 per cent on the 3316 it shifted over the same period last year.
---