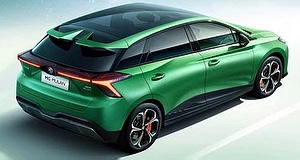 MG Motor has revealed images of its upcoming battery-electric small hatchback, named Mulan, replete with "global R&D, standards, and aesthetics". It is designed to compete with VW Group's MEB-based products such as the VW ID.3 and Cupra Born.
The SAIC-owned brand recently released images and few details of the model on its official WeChat account in China. The new hatchback, which will be known as Mulan in its home market (but probably the MG4 elsewhere), will be underpinned by SAIC's Nebula all-electric platform and have a rear-wheel-drive configuration.
MG Motor Australia already offers one of the top-selling battery-electric vehicles (BEVs) in the local market in the shape of the (soon to be updated for the new model year) ZS EV and the Mulan/MG4 is being billed as the Chinese brand's "first global EV", which is expected to make a major impact in especially Europe…
The five-door Mulan/MG4 will measure 4287mm in length, 1836mm in width and 1516mm in height, ride on a 2705mm wheelbase and utilise a thinner lithium battery system module with "recumbent" cells (for better space utilisation), as well as a five-link independent rear suspension configuration.
And according to recent new-car declaration information released by the Chinese Ministry of Industry and Information Technology, the model will be produced in two configurations (at least initially). The first will have an 125kW motor combined with a lithium iron phosphate battery pack, while the other will be equipped with a 150kW motor mated with a "ternary lithium battery pack".
As for the two power systems, the supplier of the battery pack will be SAIC Ningde Yikong, and the supplier of the drive motor United Electronics, a report said.
MG Motor (quite sensationally) claims that the Mulan/MG4 will be capable of achieving a sub-four-second 0-100km/h time, but that's more likely to come from a version equipped with a dual-motor powertrain.
Although the Mulan/MG4 is a small hatchback, it incorporates SUV-coupe-like crossover design cues that also adorn vehicles such as the Hyundai Ioniq 5 and Kia EV6. Its front-end is characterised by an arrow-point design with diagonal bonnet and front bumper contours, as well as triangular LED headlamp clusters.
The profile is dominated by dramatic swage lines, sizeable alloy wheels (with orange-painted brake calipers behind them), a rearward-tapering side-window glass area and blacked-out C-Pillars that create the (very fashionable) floating roof effect.
Furthermore, MG Motor's new BEV ostensibly features a full-length panoramic roof, while its pinched rear end features a two-part roof spoiler and distinctive Y-shaped wraparound LED taillight clusters (connected by a full-width light bar).
From the side, a large central display can be seen in the interior. The images also suggest that 5G connectivity and up to Level Three autonomous-driving tech could be fitted, although the latter may initially be limited to the Chinese market.
We reached out to MG Motor Australia to find out if and when the Mulan/MG4, of which more info will be revealed in coming weeks, will be introduced in Australia.
Adding to the likelihood of the model arriving here is the fact that the local small-car segment is set to gain a clutch of new and updated BEV models quite soon…
The BYD Atto 3 will go on sale Down Under next month under the auspices of the importer EVDirect (and perhaps later, Eagers Automotive); the new-look Nissan Leaf will arrive in August and the Cupra Born (based on the VW Group's MEB platform) early next year, followed by the Renault Megane E-Tech a bit later.
---