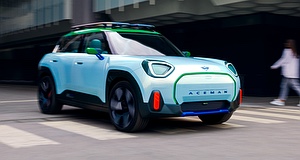 MINI has today premiered Concept Aceman, defined by the UK-based company as its first fully electric crossover model.
Showcasing a new design language and "technological innovations that will shape the brand's future models", Concept Aceman aims to combine the Mini's coveted driving pleasure with environmental thinking, as well as a new digital user experience.
The Mini Concept Aceman sports a new frontal design with an octagonal, closed and illuminated grille element, sharp-edged chassis surfaces, an athletic shoulder element and vertically stacked tail-lights.
Mini's concept model is finished in a new Icy Sunglow Green hue with a contrasting British Racing Green metallic colour used on the roof. To match, the surround on the lower edge of the body work is also finished in a dark green shade while accents in blue and pink-orange "emphasise this vehicle's lively character", Mini says.
The four-door model offers seating for five with a large cargo area door for easier access to luggage. Concept Aceman measures 4050mm in length, is 1990mm wide and 1590mm tall. It boasts strongly contoured wheel arches over 20-inch alloy wheels, a custom roof rack, and front and rear valance panels Mini says are styled to mimic underride protection.
"The purely electric vehicle concept means the design can again be geared more towards Mini's traditional basic values, in terms of the principle of using space creatively," said Mini head of design Oliver Heilmer.
"This creates models that take up little space on the road while offering even more comfort, more versatility, and more emotion on the inside than ever before.
"In the interior of the MINI Concept Aceman, we have concentrated on a simplistic appearance in combination with premium materials and welcoming colours," said Heilmer. "Digitisation enables us to make do with few operating elements and at the same time maximise the experience in a way that is characteristic of MINI. The entire design is all about offering occupants a holistic experience in the interior space."
That interior space is dominated by what Mini calls a reduced design with clear contours and carefully executed details. The dashboard design mimics that of a soundbar with Mini's central instrument face set at its centre. The round OLED display sits above a classic toggle switch bar in a nod to Mini models of yore.
Further, the Mini's cabin is adorned with minimalistic door panels, a flexible-use central console that reaches into the back, and what Mini calls "attractive colour contrasts" throughout. The seats feature three-dimensional surfacing achieved by a combination of textile flat knit, velvet velour and waffle weave, an over-dimensional houndstooth pattern and embroidered X and O graphics.
Just like the exterior, the interior is completely free of chrome elements.
Mini says the Concept Aceman aims to foster an emotional connection between the car and its owner by providing a seamless digital operating concept and a holistic user experience consisting of light, movement, interaction, and sound.
Sensor-based animation is activated when an owner approaches the car while the central display provides the latest Android-based (and open source) software enables transference of the control system content to the entire dashboard and even onto the door cards. Mini says the experience may be completely customised to a user's tastes.
"The Mini Concept Aceman provides a glimpse of a completely new vehicle, bridging the space between the Mini Cooper and the Mini Countryman in the future of the model family," said head of Mini Stefanie Wurst.
"This concept car reflects how Mini is reinventing itself for its all-electric future and what the brand stands for: an electrified go-kart feel, an immersive digital experience and a strong focus on a minimal environmental footprint."
The Mini Concept Aceman will make its public debut at Gamescom 2022 in Cologne on August 23.
---