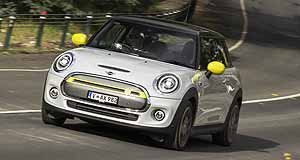 MINI has received a phenomenal response to its first-ever zero-emissions vehicle in Australia, the Electric Cooper SE Hatch, with its first allocation for this market sold out soon after the Launch Edition – priced from $59,900 driveaway – was announced early in May.
Speaking to GoAuto ahead of first deliveries commencing this month, Mini Australia general manager Brett Waudby described the customer response to the EV as "overwhelming".
"All of our allocation is now sold out for this year, so if you want one you have to wait until 2021 arrivals which has surprised us no matter what," he said.
"Australians love V8s here and we weren't sure how this car would go here but it's gone amazingly well."
Mr Waudby added that the company would try to secure more examples for Australia, with the majority of the initial run spoken for within one week.
"We pre-ordered 100 of these vehicles and we went online, it was one of the first vehicles we went online allocation with, and we sold about 70 to 80 per cent within the week," he said.
"And this is a car that nobody's actually physically seen or driven!
"Obviously, we've been trying to get more into the country, and if we can, we will, but given the current situation (with COVID-19) it's definitely going to be a 2021 delivery for all new orders."
Mini's new EV is available in a single specification, the Cooper SE, with all focus naturally centring on its powertrain that has an electric motor mounted to the front axle – producing 135kW of power and 270Nm of torque – and combines with a 32.6kWh lithium-ion battery.
Its output makes it more potent than most of its direct rivals such as the Hyundai Ioniq Electric (104kW/265Nm), Renault Zoe (68kW/220Nm), Nissan Leaf (110kW/320Nm) and upcoming electric-only new-generation Fiat 500, (87kW), allowing for a 0-100km/h sprint time of 7.3 seconds – only 0.6s off its petrol-powered counterpart.
The main drawback is range – on the WLTP cycle, the Cooper SE only manages 233km of driving range between recharging, down on its rivals and well off the pace of the Nissan Leaf, which boasts up to 400km.
However, Mr Waudby said the lack of longevity was not a concern for Mini, as it would be targeted primarily at inner-city owners who will not be making many long trips.
"We've recently developed this car and it's developed for a purpose, and that's really the inner-city people, and to be honest if you want a long-range electric car the Mini isn't going to be for you," he said.
"And we expect that, we make no bones about it. This car for the inner city, that inner-city driving and nipping out is the perfect car."
He added that there were no plans to supplement the full-electric powertrain with a range-extender set-up that uses a small combustion engine to help replenish the battery when on the move – as seen on the BMW i3 hatch, for example – and that for the time being there were no plans to bring more EV variants to other model lines in Mini's range.
Four drive modes are available – Sport, Mid, Green and Green+ – which can adjust potential range by limiting ancillary functions like seat heating and air-conditioning.
Charging the battery from fully depleted to 80 per cent can be done in 35 minutes when using a 50kW fast-charger, and 3.5 hours when using an 11W socket.
With the battery mounted under the floor, centre of gravity is 30 per cent lower than the equivalent petrol grade. However, the SE sits 18mm higher off the ground to protect the battery.
Kerb weight has increased by 150kg to 1365kg with the EV, which has forced a retune of the suspension, while the instant torque delivery has meant the dynamic stability control system has been tweaked to avoid wheelspin.
With many of the powertrain components housed in the engine bay, cargo capacity remains the same at 211 litres – with charging cables stored under the boot floor – and this can be expanded to 731L with the rear seats folded.
The initial allocation of vehicles is offered only in special Launch Edition guise, which includes its own specification highlights such as four exterior colour choices (White Silver, Midnight Black, Chili Red and British Racing Green) with matching 17-inch alloy wheels depending on the colour, adaptive LED headlights, leather sports seats with front heating, a head-up display, 5.5-inch digital instrument cluster and a Harman Kardon sound system.
This is in addition to existing features such as an 8.8-inch infotainment system, wireless phone charging, electric parking brake and dual-zone climate control.
The SE is the second electrified model from Mini, joining the Countryman S E All4 plug-in hybrid SUV that was launched in April last year, priced from $57,200 plus on-road costs.
It is also the second EV the BMW-owned Mini brand has built. A pilot program with limited production of 500 units was run from 2008 to 2011 in the United States, where the 'Mini E' was leased to private and corporate customers.
That model used a 150kW/220Nm electric motor, driving the front wheels and enabling 0-100km/h acceleration of 8.5 seconds. The 35kWh lithium-ion battery handed it a driving range of about 240km.
Through the first half of 2020, Mini has sold 1709 total vehicles, down 9.4 per cent for the year to date but less than half of the loss experienced by the total new-vehicle market this year, which is down 20.2 per cent.
---