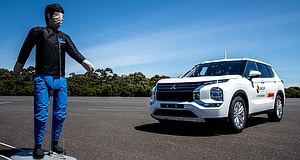 MITSUBISHI has scored the highest possible five-star safety score for its family-sized Outlander SUV in the latest round of ANCAP crash testing.
The result – which is applied to all petrol-powered variants – saw the Outlander perform well in adult occupant tests (83%) as well as in side-impact and oblique pole tests (100%) with a "good" result awarded in frontal offset and full width (forward) collision tests.
While the Outlander is fitted with a centre airbag (which is designed to reduce occupant-to- occupant injury in side-impact crashes), ANCAP said the device "did not meet its coverage requirements" and therefore applied a penalty to the overall result.
The model does not offer curtain airbag protection to the third row of seating, yet despite this omission, was awarded a 92 per cent score in the assessment area of child occupant protection.
ANCAP said it awarded full points for the protection offered to child occupants in both dynamic tests.
Under ANCAP's 2020-2022 protocols, a three-row SUV is not required to have curtain airbags fitted across all seating positions.
"The new Outlander offers an excellent safety package and is a comprehensive offering," ANCAP CEO Carla Hoorweg said.
"Mitsubishi have clearly prioritised the safety of both vehicle occupants and other road users in the new Outlander and should be applauded for this five-star result."
The Outlander also scored well in ANCAP's vulnerable road user assessment with the highest score (81%) achieved to date in the Medium SUV category. The Outlander is equipped with an autonomous emergency braking system that can react to cyclists and pedestrians; test results showed the vehicle avoided or mitigated such collisions in "most scenarios".
Good scores were also achieved by the Outlander in ANCAP's safety assist area of assessment by virue of its integral AEB system, which can react to other stationary, braking, and slowing vehicles. Testing of the Junction Assist system fitted showed the Outlander effectively braked to avoid crashes when turning across the path of an oncoming vehicle.
Full points were awarded for tests of the Outlander's lane-support system (LSS), including emergency lane keeping and lane-keep assist.
"ANCAP exists to encourage manufacturers to improve their products with every new model generation released," Ms Hoorweg added.
"By providing consumers with the highest level of safety available, manufacturers provide immediate safety benefits as well as sustained road safety benefits for future owners and other road users," she concluded.
---