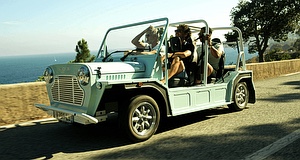 MOKE International has agreed to sell up to 100 per cent of its shareholdings to EV Technology Group (EVTG), a brand which specialises in electrifying iconic automotive brands.
The strategic move comes as Moke International launches the new British-built Electric Moke, an emissions free continuation of the iconic 1964 Mini Moke the company says is already building long waiting lists in France and the UK.
Moke International says it will benefit from EVTG's world-class product development, engineering and manufacturing capabilities, and will be perfectly placed to expand into global markets.
"I am proud and excited that Moke International is becoming part of the EV Technology Group. It is the perfect Company to take our rapidly growing business to the next level with the right balance of expertise, investment, and ambition," said Moke International CEO Isobel Dando.
"EV Technology Group's in-house expertise, and customer-centric technologies will also be invaluable to us as we continue to develop the Electric Moke and more pioneering products.
"I am also looking forward to working closely with Wouter and the entire EV Technology Group leadership team to further develop Moke International and other exciting brands to come."
The cash and stock transaction is valued at $US51.6 million ($A76.1m) meaning EVTG will own approximately 65 per cent of Moke International and will maintain an option to acquire up to 100 per cent of the remaining shares.
EVTG says the deal represents its first full purchase of a major automotive brand and fits its strategy of reinventing brands through electrification with a mission to create and redefine the joy of motoring in the electric age.
Moke International's management team will be retained as part of the deal and will continue to lead the brand's expansion.
"This exciting investment is extremely close to my heart. I first became interested in Moke International when I tried to rent a Moke in the South of France – I quickly discovered the joy of driving this vehicle in beautiful locales – but also the commercial opportunity to reimagine Moke as a global brand," said EV Technology Group CEO Wouter Witvoet.
"Technology Group's mission is to revitalise iconic brands and rediscover the joy of motoring in an electric age. This applies brilliantly to Moke International as it forms the perfect start to EV Technology Group's strategy to acquire heritage brands that have a loyal following and substantial brand equity.
"I am looking forward to helping the business expand as it enters new markets, especially in the USA. Moke International has a superb future and EV Technology Group has the capabilities to support it every step of the way."
The Electric Moke offers an 80km/h top speed and a range of 120km. It can be fully charged in about four hours from a household power outlet and is offered in five standard colours: Wave Blue, Sunlight Yellow, Sunset Orange, Scuba Blue and Granite Grey.
Moke International's BEV retails from £29,150 ($A53,730), the 800kg model providing 33kW of power to the rear wheels. It is available in right- and left-hand drive configurations and is equipped with such luxuries as power steering, regenerative braking and a heated windscreen.
The London-based brand says its battery cells, motors, and inverters are sourced from Tier 1 European suppliers, but does not provide a battery capacity for its new model. The Electric Moke is built in the UK under the leadership of ex-Rolls-Royce product lead Isobel Dando and was completely redesigned to improve acceleration and driveability.
EV Technology Group was founded in 2021 and is backed by a diversified team of passionate entrepreneurs, engineers and driving enthusiasts. EVTG says it creates value for its customers by owning the total customer experience — acquiring and partnering with iconic brands with significant growth potential in unique markets and controlling end-to-end capabilities.
---