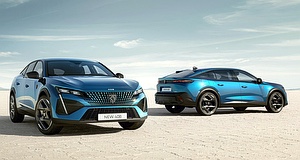 IN AN announcement this week, Peugeot has resurrected the 408 nameplate and it will be here soon (next year), filling a spot in the medium passenger car category with a fastback-on-stilts body, not a sedan in the accepted sense.
The good-looking French car will initially be available with a choice of three engines, two petrol-electric plug-in hybrids and one conventional 1.2-litre turbo-petrol, then, down the track, a fully electric version.
Given that the medium sedan car market is almost kaput, it's no surprise Peugeot is having a bet each way with the quasi-SUV stance of 408 and a fastback no less. Perhaps they know something nobody else does…
Peugeot isn't going into this by half measures and will no doubt offer the new 408 in a range of equipment grades potentially giving customers a choice of up to six or more vehicles after the EV arrives. The Australian line-up will certainly be limited to possibly only a couple of variants, but the EV will be on Peugeot's short list here.
All three engines in the advance guard run an EAT8 (Efficient Automatic Transmission 8) eight-speed auto that can reduce fuel consumption up to seven per cent compared to the EAT6. It offers improved stop and start response, introduces a specific ECO mode with free-wheeling (from 20 to 130 km/h), weighs less and is more compact.
The EAT8 provides additional driving comfort in operation thanks to a more comfortable shifting of gears made possible by optimised exchanges of torque between engine and gearbox and the transition to eight speeds. The latter helps reduce the jump between gears at each shift.
On a daily basis, the new EAT8 provides comfortable driving when departing from a parked position and for parking manoeuvres.
The transmission drives the front wheels only.
The two hybrids, badged as the 180 and the 225, share a 1.6-litre low-boost turbo-petrol engine with a single in-line electric motor attached to boost performance and aid fuel economy. Both can be plugged in to charge the battery which also recharges dynamically.
The 180 (hp) is good for 133kW cumulative power while the 225 (hp) is good for 165kW cumulative power and both achieve a maximum 360Nm of torque from as low as 500rpm up to 2500rpm.
No performance or fuel economy details have been provided by Peugeot suffice to say any medium size car that weighs around 1400kg with 165kW and 360Nm on tap is going to deliver plenty of performance. Not so much in the lesser model obviously.
The entry level 408 PureTech 130 (hp) runs a three-cylinder turbo petrol engine good for 96kW and 230Nm outputs. As the lightest weight 408, performance should not be cringeworthy. It scores the eight-speed auto as well.
The hybrid technology used in 408 is fairly generic by today's standards and is similar to what is used in numerous other vehicles…. not ground-breaking in other words. Peugeot seems to be hedging its bets by offering the two hybrids as plug-ins with, presumably, limited EV range and long recharge times.
No details about the EV version are available suffice to say the car will likely leverage EV powertrain technology from within the Stellantis group which now owns Peugeot.
Some features in the new 408 include the latest generation of Peugeot's i-Cockpit with a characteristic small steering wheel. Peugeot says the cockpit "places an emphasis on quality and connectivity, with the (very) latest technologies to make the driving and travelling experience more intuitive and rewarding."
The car boasts six cameras and nine radars to run its driver assistance systems and to "provide peace of mind and safety."
The usual array of driver assistance features includes adaptive cruise control with Stop & Go function, night vision, which warns of animals, pedestrians or cyclists ahead before they appear in the high beam, long-range blind spot monitoring (75 metres) and rear traffic alert, which warns of a potential hazard when reversing.
The standout feature of the new 408 is its high riding fastback silhouette that is both attractive and attention grabbing.
The shape is accentuated by sharp lines, a super aggressive toothed grille (new to Peugeot) various chrome garnishes and LED lighting and is said to be aerodynamically efficient but no figures are quoted at this point.
In the cockpit, the emphasis is on quality and connectivity, with the very latest technologies to make the driving and travelling experience more intuitive and rewarding.
The new 408 will arrive on the market at the beginning of 2023 coming out of Peugeot's factory at Mulhouse, France, for the European market and then, soon afterwards, out of the Chengdu factory in China for the local market.
---