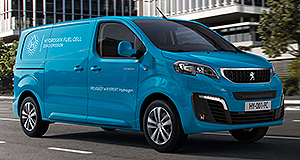 PEUGEOT has shown off its latest eco-friendly creation in the form of the e-Expert Hydrogen van; a light-commercial vehicle (LCV) designed to offer businesses and fleet buyers the option of green motoring across Europe, but not Australia.
Due to be launched in France and Germany later this year, Peugeot Australia general manager Kate Gillis confirmed the e-Expert Hydrogen was not even under consideration for our market, however battery-electric (BEV) versions were.
"Whilst the e-Expert Hydrogen is not currently available or under consideration for Australia, electric variants of Peugeot's light-commercial vehicles are currently under consideration for local introduction," she said.
Nevertheless, the e-Expert Hydrogen does at least point to the future direction of the brand with hydrogen fuel-cell electric (FCEV) powertrains set to feature prominently not only in Peugeot's LCV portfolio, but the entirety of the Stellantis' according to chief engineering officer Harald Wester.
"As we look further into the future, hydrogen fuel cells show – especially for LCV – great promise as the next level of zero-emission propulsion technology as they will fulfil customer range expectations combined with towing and payload capacity," he said.
"At Stellantis, we believe that LCV zero-emission offers shall meet all customer demands and user-profiles, to ensure sustainable delivery activities in line with environmental stakes."
The core of the e-Expert Hydrogen is its all-new "mid-power plug-in hydrogen fuel-cellelectric" system developed by Stellantis, based around a hydrogen fuel-cell and a rechargeable 10.5kWh lithium-ion battery.
Operating similar to a hybrid vehicle, start-up and low speed driving are taken care of exclusively by the battery pack and its adjoining electric motor before the fuel-cell takes over as the primary power source as speeds build.
When maximum power is needed (brisk accelerating, climbing or overtaking), the battery and fuel-cell are used in tandem with the former being recharged by the electric motor during braking or deceleration.
Peugeot says the e-Expert Hydrogen will cover "over" 400km on the WLTP cycle and produce 100kW/260Nm when all said and done with two versions –Standard (4950mm) and Long (5300mm) – to be offered.
Both body types boast a maximum payload of up to 1100kg and a maximum towing capacity of 1000kg with the long versions offering up to 6.1 cubic metres of cargo space.
Ms Gillis said that while the e-Expert Hydrogen would be a non-starter for the brand in Australia, the local arm's electrification journey would be starting later in the year with the 3008 Hybrid4 and 508 Fastback Plug-in Hybrid before launching dedicated BEVs next year.
"Moving into 2022, we will be introducing full battery-electric vehicles to the Australian market," she said.
The confirmed introduction of the 508 Fastback Plug-in Hybrid could ultimately pave the way for a local launch of the flagship 508 Peugeot Sport Engineered given it too features a hybrid drivetrain.
As reported by GoAutoin September, the 508 PSE develops a Stinger GT-baiting 268kW/520Nm and can launch from 0-100km/h in a claimed 5.2 seconds.
If driven carefully, Peugeot says its most powerful model to date will emit just 46g per 100km CO2 emission rate, "the equivalent of 2.03L/100km fuel consumption" and cover up to 42km on electric power alone.
Peugeot Australia has sold 635 new vehicles so far this year ending April, marking a 14 per cent improvement on the 557 it sold over the same period last year.
---