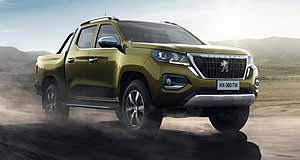 PEUGEOT has debuted a new one-tonne pick-up called the Landtrek, however local fans need not hold their breath as the new French ute is destined mainly for the Latin and South American markets.
Revealed in Mexico, the Landtrek helps Peugeot fill a gap in its light-commercial vehicle line-up, with the medium pick-up segment contributing 2.5 million global sales in 2019, nearly 410,000 of which were sold in South America.
Given that Peugeot Citroen Australia (PCA) last year made the change to give Peugeot the lead on light-commercial vehicles over Citroen, the addition of a one-tonne pick-up would be warmly welcomed by dealers and Peugeot fans alike.
However PCA PR manager Chloe Fraser told GoAutothat the Landtrek was not available for the Australian market.
Developed in conjunction with Chinese manufacturer Changan – where it is sold as the Kaicene F70 – the Landtrek is available with the choice of single- or dual-cab body styles, as well as the choice of petrol or diesel engines.
If it were offered in Australia, the most popular option would likely be the diesel, namely a 1.9-litre turbocharged four-cylinder unit producing 110kW at 4000rpm and 350Nm from 1800-2800rpm, driving either the rear or all four wheels exclusively via a six-speed manual transmission.
Fuel consumption for the diesel ranges from 7.8-8.1 litres per 100km, while CO2 emissions range from 206-212 grams of CO2 per kilometre. The diesel's Euro 4 emissions rating is likely a large reason the Landtrek is not planned for Australia.
Meanwhile the petrol engine is a 2.4-litre turbocharged four-pot unit producing 155kW/320Nm, with fuel consumption ranging from 9.8-11.0L/100km and CO2 emissions from 229-256g/km.
Payload ranges from 1020-1210kg, depending on the variant.
In terms of styling, the Landtrek can clearly be identified from the front as a member of Peugeot's LCV family, with a similar headlight cluster to the Partner small van, and a grille that would not look out of place in its passenger-car line-up.
The classic boxy pick-up silhouette is seen from side-on, with top-spec grades scoring alloy wheels, roof rails and a chrome sportsbar.
A simple tail-light design and tailgate emblazoned with the Peugeot badge and lettering completes the exterior look.
Inside, variants will score a large, horizontally oriented touchscreen, with signature Peugeot-design buttons and a central instrument cluster colour display.
Peugeot created the Landtrek to target sales growth outside of the European market with a "pick-up offer that is as universal as possible", allowing the brand to offer a full range of commercial vehicles in South America where 77 per cent of LCV sales are pick-ups.
To the end of October, Peugeot has sold a combined 3428 vehicles, down an even 5.0 per cent over the same period last year.
---