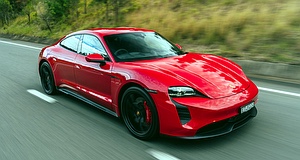 PORSCHE has bolstered the line-up of its Taycan model with the addition of a 'GTS' variant that offers improved dynamics and comfort, distinctive styling, plus blistering performance.
The GTS is widely regarded as the 'sweet spot' variant of whichever Porsche range it adorns… and there are quite a few of them. In the case of the Taycan GTS, the variant is distinguished by a blacked-out theme – inside and out – as well as its evocative badging.
Other blacked-out elements include the 20-inch Turbo S Aero Design wheels, front apron, rear diffuser, and assorted trim pieces.
While its powertrain, chassis and suspension are shared with some other Taycan variants, the GTS incorporates various tweaks aimed at providing sportier handling and improved comfort over its siblings. It's an odd combo, because comfort and performance are usually mutually exclusive.
Porsche premiered the Taycan GTS alongside the 911 GTS at the Los Angeles Auto Show in November last year, which was also when it opened its order books for the model.
The Taycan GTS comes in at $241,900, plus on-road costs (ORCs) for Australian buyers; it slots in between the lower-spec 4S ($198,800) and bonkers Turbo ($281,900) variants.
Demand for the Taycan has so far been strong, Porsche Cars Australia says, with many existing GTS owners waiting for the electric range to score the badge.
"Those customers that really want a GTS, and perhaps are existing GTS customers, those people have been waiting," the firm's head of public relations, Chris Jordan, said.
When asked whether the Taycan GTS was generating the same demand as its petrol-sipping 911 GTS stablemate, Porsche Cars Australia confirmed it was pretty neck-and-neck, but buyers are likely to get a Taycan earlier than its 911 equivalent.
Early buyers are already receiving their new cars, but for anyone ordering now, PCA says that they're likely to take delivery of their Taycan GTS in early- to mid-next year.
"The cars are just arriving now, after we opened the order book when the world premiere happened," said Mr Jordan.
"The Taycan GTS will be here next year for buyers, but we urge people to go to their local Porsche Centre, because it does change a lot."
Porsche went to great lengths to ensure the Taycan performs and drives like a 'true Porsche', rather than other EV options that offer one-pedal driving.
"What we've tried to do all along is make sure this car is genuinely a true Porsche sportscar and a genuine part of the range, not an outlier," said Mr Jordan.
This much is evident: the new Taycan GTS may well be the most versatile Taycan yet.
---