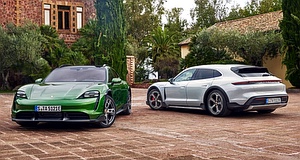 PORSCHE is offering free software updates to owners of 2020, 2021 and 2022 models of its fully electric Taycan performance sedan that will give them the same performance as the 2023 model.
The software download, available to Australian Taycan owners, will bring increased powertrain efficiency, plus enhanced functions and improvements in the Porsche Communication Management (PCM), Porsche Connect and assistance systems.
Customers can also opt to have individual functions and equipment unlocked after purchase (function on demand, FoD) and improvements to the Taycan's over-the-air (OTA) update capability.
The fact the OTA needs enhancing seems evident by the fact the free update can only be carried out at a Porsche service centre and not over the air.
The precise scope of the update, and the time it will take, will depend on the specific software status of the Taycan in question, with the 2020 and 2021 models receiving a host of improvements already installed for MY22.
Powertrain enhancements for the older models include more efficient running for all-wheel-drive models by virtually disconnecting the front electric motor when in 'Normal' and 'Range' driving modes.
Both axles are free of drive torque when coasting or at a standstill, and a new energy flow indicator is viewable on the centre touchscreen.
The automatic energy recuperation setting is retained, even when the drive mode is adjusted.
All previous models will also gain enhancements to their thermal management systems, including better battery conditioning, especially at low outside temperatures, which allows for more frequent rapid charging over a broader range of battery charge levels (SoC). The waste heat from the electrical components, for example, is used even more than before to temper the battery.
This will result in greater range and charging times, particularly for 2020 and 2021 Taycans.
Inside, the Taycan, the PCM receives new functions, a fresh colourful tile design on the start screen and, according to Porsche, improved functionality.
In Taycan models produced in the 2020 and 2021 model years and up to mid-February 2022, the update brings wireless Android Auto, optimises the voice control and integrates the Spotify app.
The 2021 Taycan models with head-up displays will have their navigation graphics optimised to the current standard.
All pre-2023 Taycans will also be easier to park, with ParkAssist sensors now able to detect obstacles further away. The search for available parking spaces has also been improved as well, with smaller spaces offered to the driver as an option.
As well as the free software update, the 11kW onboard charger can be replaced with a more powerful and quicker 22kW charger, which is now available for retrofitting.
Porsche hasn't revealed how much the retrofit will cost but suggests Taycan owners can kill two birds with one stone by having the charger retrofitted and software update carried out in the same visit.
Porsche has sold more than 75,000 Taycans globally since its first all-electric model went on sale at the end of 2019.
---