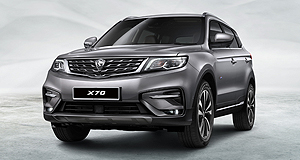 PROTON looks set to relaunch in Australia with a new model range expected to come on stream as part of a joint venture with Chinese automotive giant Geely, which purchased a 49 per cent stake in the Malaysian brand in 2017.
Proton was operating in Australia under a factory distribution arrangement set up when DRB-Hicom bought a majority stake from the Malaysian government in 2012, however sales of its ageing range including the Exora, Preve and Suprima S have petered out in recent years – from 421 units in 2015 to 38 in 2017 and a solitary sale last year.
With Geely buying up a large stake in the Malaysian car-maker, the Chinese car-maker has plans to use Proton as a new channel into right-hand-drive markets – including Australia – with a range of Geely-sourced and co-developed models.
Speaking to GoAuto at the Shanghai motor show last week, Geely head of international PR Ash Sutcliffe said the new partnership could see Proton reintroduced to a number of global markets.
"I would look closely at what Proton are up to," he said. "Proton may be planning a return to Commonwealth nations in the near future."
Mr Sutcliffe explained that Proton's knowhow in the development of right-hand-drive vehicles would help it expand into a greater number of markets with the backing of a range of products jointly developed by Geely.
"Proton have a lot of experience in developing right-hand-drive cars, and their chassis and platform development is really helpful for Geely," he said.
"For example, we do a lot of testing in Malaysia that we can't do in China – hot-weather testing, when it's cold here we can go there, and they have fantastic facilities, and they've got a lot of talent in developing right-hand-drive cars. So the match together is quite good."
He added that hot-weather testing is also carried out in Australia.
Late last year, Proton introduced the X70 mid-size SUV that was effectively a rebadged version of Geely's Bo Yue – one of its most popular models in China – which Mr Sutcliffe said has helped to revitalise the Malaysian brand.
The X70 is seen as a short-term solution to help reinvigorate Proton sales, whereas future models for Proton will be jointly developed from the ground up.
Mr Sutcliffe said there was not yet a timeline for the first jointly developed model between Proton and Geely.
He also added that Geely is currently studying the business case for the introduction of its freshly minted Geometry all-electric brand into right-hand-drive markets, including Australia.
According to Mr Sutcliffe, Australia and South-East Asian markets are "up there" for consideration of a business case, while a European arrival is also on the cards.
Introduction into the UK is still to be determined, while Japanese consumers will miss out due to the difficulty of market penetration there.
The Australian business case is expected to be finalised in the next 24 months, upon which a decision on its viability will be made.
After revealing its first model, the Geometry A sedan, total orders in the first 20 days had totalled 26,000 units, 17,000 of which have come from international markets and the remaining 9000 from China.
Geometry has announced plans to launch an additional 10 models by 2025, including SUVs, MPVs and sedans.
---