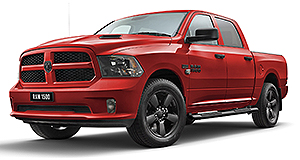 RAM Trucks has lobbed a new variant into its 1500 line-up after experiencing phenomenal sales growth last year, with the new Express Crew V8 Hemi filling a $20,000 price gap in the 1500 line-up.
Priced from $89,950 plus on-road costs, the Express Crew V8 Hemi slots neatly in between the base Express Quad Cab ($79,950) and Laramie Crew Cab ($99,950) and shares the former's 5.7-litre 'hemi' V8 petrol engine, still good for 291kW of power and 556Nm of torque – sent to all four wheels via an eight-speed automatic transmission.
The maximum braked towing weight of 4500kg is also carried over.
Not just plugging a price gap, the new Express Crew V8 Hemi blends the larger cabin and some of the toys from the higher-specced Laramie Crew Cab with the drive and powertrain of the Express Quad Cab.
Standard equipment over the base model includes Ram's 8.4-inch Uconnect touchscreen system featuring both Apple CarPlay and Android Auto while and dual-zone air conditioning helps cool and heat the bigger cab.
To distinguish itself from its smaller-cabbed stablemate, RAM have given the Express Crew V8 Hemi unique sports styling, headlined by the more bulbous bonnet and matching bonnet scoops from the Laramie.
The base model's chrome alloy wheels have been replaced by a similar five-spoke design albeit in matte black, the headlight surrounds have been darkened as have the door and front guard badging while the parabolic line linking the front and rear wheel arches has been subtly enhanced.
Ram Trucks Australia national sales manager Jeff Barber said the enhancements combined with the added gear and bigger cab make the Express Crew V8 Hemi the "duck's guts".
"We've assessed the market and feel the time is right to build on the huge levels of passion for the Ram Trucks brand in Australia," he said.
"The 1500 Express Crew allows us to grow our product portfolio and offer a premium version of our entry-level Express range.
"It also marks the first step in what will be an exciting product rollout in 2020."
Last year Ram Trucks Australia experienced a 296.7 per cent sales increase compared to 2018, shifting 2868 units nationally (1.3 per cent of the light commercial market).
So far this year ending January, the brand has shifted 130 units across the line-up (+41.3 per cent), 121 of which were 1500s.
2020 Ram Trucks 1500 pricing*
| | |
| --- | --- |
| 1500 Express Quad Cab (a) | $79,950 |
| 1500 Express Crew V8 Hemi (a) | $89,950 |
| 1500 Laramie Crew Cab (a) | $99,950 |
| 1500 Laramie EcoDiesel Crew Cab (a) | $109,950 |
*Excludes on-road costs
---