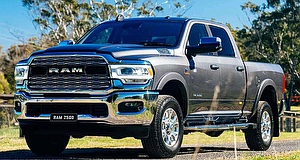 NO-ONE messed with the fat kid at school. It wasn't that he was a bully or bad-mouthed or just plain aggressive, merely that he looked like he could damage you. So, us littler kids stayed out of arm's reach.
Away from school, the lessons remain. On the roads, we know what has the potential to hurt. So, we keep a distance from larger vehicles, even though they are likely to be benign.
Like the big kid in primary school, intimidation deserves respect. Now intimidation has a new abbreviation – Ram.
The ute – er, truck – from North America may be now growing in popularity but its belligerent grille in the rear-vision mirror and its sheer height and length have created a new way to part the freeway congestion.
By now you'd assume that it's a new road pest, succeeding the big 4WDs. There's always something bigger and more threatening ready to occupy our lives, for better or for worse.
Ram brings its bulk and tough payload and tow rating to a country and a lifestyle that is almost purpose built for its qualifications. It will clearly thrive in an environment where its attributes are welcome.
But it has a niggle. In fact, probably a bit more than a niggle. It's just so big that it needs two car bay lengths. Its turn will etch a circle of 14.6 metres in diameter.
Position this in a Bunnings carpark and aim to get out at the end of the visit and you'll need a lot of distance between you, the other handypeoples cars and the shop's front door.
An urban environment isn't its ideal playground. This is one for the open road, wide country park bays and a traffic community that is far less dense than a city.
I get that it has ego appeal. It's a truck that even a moonshine bender would fail to turn invisible.
But it's costly and a bit thirsty and requires sufficient real estate to keep it happy and secure at night.
It's one for people who need a lot more out of the average ute and so stretches a niche audience from a cashed-up holiday maker with a caravan – or fifth wheeler – in tow, or a tradie who is really in the big end of town.
Towing? Try 3500kg out of the box and up to 8000kg with upgrades.
And even dishing out the negatives, it remains a desirable machine and a lusted step-up for every driver of a one-tonne dual-cab ute. And perhaps every one-tonne driver of a dual-cab ute.
---