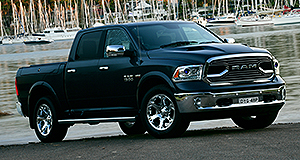 RAM Trucks Australia says that demand for its remanufactured 1500 full-size pick-up is so high that it will add a third production shift to increase its overall capacity by 50 per cent.
The brand's sales have exploded this year, with the 465 units it has sold to the end of March representing a massive 910.9 per cent increase over the 46 vehicles it delivered during the same period in 2018.
The majority of this growth is attributed to the 1500, which has this year provided 392 units of incremental volume. The 2500 and 3500 have combined for 73 sales – a relatively modest 58.7 per cent improvement year-on-year.
"The 1500 is now having the same dramatic effect on Ram sales in Australia as it has done in the USA, where the Ram brand has enjoyed eight years of consecutive growth," Ram Trucks Australia general manager Alex Stewart said.
"There can be little doubt that the 1500 is making Ram a significant player in the top end of the Australian ute market."
As a result, the production line in Clayton South, Victoria, will produce the 1500 and its 2500 and 3500 siblings 24 hours a day, five days a week from June 1. These vehicles are also currently exported to New Zealand for sale.
"This is not just great news for Ram, it is also a fantastic achievement for the Australian automotive industry and shows the world our automotive and engineering industry is open for business," Mr Stewart said.
"Since we started production, we have cut by more than two thirds the time it takes to remanufacture a Ram truck for our market.
"We use up to 400 components, the vast majority locally produced by Australian companies and, by the time we go to three-shift working, we will be employing more than 160 people directly and many more indirectly across the country."
The new Ram Trucks Australia production line is 130m long, making it large enough for 21 vehicles to be remanufactured simultaneously. Each vehicle takes less than 24 hours to be completed – down from the three-plus days one would take from the operation's inception.
Each vehicle is fitted with 350 to 400 new parts, the majority of which are locally produced by companies including Socobell (dashboard) and Hi-Spec Australia (brake and air-conditioning lines, high- and low-pressure fluid transfer hoses, and tubing).
Ram Trucks Australia currently employs 110 people on its production line, but the 50-plus new hires are already undergoing classroom and practical training in preparation for the third shift.
Another 20 staff work in design and engineering, preparing for the next generation of Ram models, while an unspecified number of employees are responsible for parts supply and administration.
"The entire Ram Trucks project was set up, engineered, designed and developed in Australia by Australian experts," Mr Stewart said. "It shows what this country is capable of and how we can produce a world class-product.
"In short, it is clearly something of which everyone involved should be extremely proud and which, in the form of the Ram 1500, 2500 and 3500, has provided Australians with a new and unique choice when it comes to vehicle buying."
Despite remanufacturing Ram models from left- to right-hand drive, Ram Trucks Australia's three-year/100,000km warranty is factory-backed and supported by 37 dealerships, plus 15 in New Zealand.
"Our aim has always been that, so far as the customer is concerned, buying and owning a RAM, be it the new 1500 or its heavy-duty brother, the 2500 and 3500, should be absolutely no different from buying any other mainstream vehicle," Mr Stewart said.
"This means everything from production-line quality and consistency of product, to a national dealer network, a factory-supported warranty, through to back up of a full parts and accessory warehouses in Sydney and Auckland that can deliver parts to anywhere in the country within 24 hours."
---