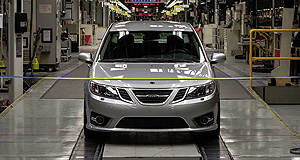 RESSURECTED Swedish car-maker Saab has hit the reboot button, with confirmation that production of its 9-3 sedan/hatch will recommence in Trollhattan today.
A Saab 9-3 Aero is scheduled to be the first vehicle to roll off the production line at 1.30pm central European time today.
The initial run of the 9-3 follows the successful completion of a number of prototypes back in September that were built to test the capabilities of the production line.
The iconic Swedish car-maker was given another chance at life last year when a Japanese and Chinese consortium known as National Electric Vehicle Sweden (NEVS) agreed to buy the bankrupt entity and relaunch it as an electric vehicle manufacturer.
While plans remain in place for the newly formed company to produce electric vehicles based on the 9-3, the first batch of "new" Saabs are powered by an internal combustion turbocharged petrol engine.
NEVS public relations officer Mikael Ostlund confirmed with Reuters that the 9-3 will initially be built in "small and humble numbers" and be sold in China and Sweden only.
The EV powertrain is expected to be rolled out sometime next year, with a mild facelift to update the design that has been around since 2002, and at this stage is scheduled for sale in China only.
A possible wider roll-out could occur in Europe and US, depending on demand and production capacity.
Model year 2014 9-3s will reportedly be similar in specification to the 2011 version, with Mr Ostlund confirming that the newly formed EV-maker has reached agreements with the 400 suppliers of parts for the 9-3.
Mr Ostlund confirmed with Reuters that NEVS currently employs 600 workers at the Trollhattan plant, far fewer than the 3500 people that were employed at the time the company dissolved.
Saab officially filed for bankruptcy in late 2011, after the company was offloaded by former owner General Motors following the global financial crisis.
A number of potential suitors held talks with Saab in the hope of keeping it afloat, including Dutch supercar-maker Spyker, who purchased the ailing marque in 2010.
Spyker tried to strike deals with a number of Chinese backers without success, leading to the eventual bankruptcy of the company.
---