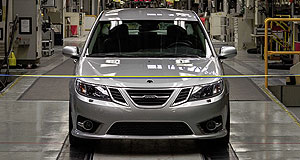 SAAB'S resurrection as a Chinese-owned electric-vehicle manufacturer has taken another turn, with the struggling company signing an agreement with automotive giant, Dongfeng Motor Corporation, to keep them operating.
Announcing the signing of the "strategic cooperation agreement" with Dongfeng, National Electric Vehicle Sweden (NEVS) confirmed that it had been working with the Chinese car-maker on "complete vehicle development" since July to improve Dongfeng's technical know-how, as well as boosting NEVS production capability.
Both Dongfeng and NEVS have now agreed to expand on this original partnership beyond technical development to global purchasing and distribution networks.
Under the agreement, Dongfeng will help NEVS build its production facility for electric vehicles as well as a research and development facility in Tianjin, China, and will support the creation of NEVS' sales and service, which is to be supported by Dongfeng's dealer network.
NEVS will help Dongfeng meet international regulations for its vehicles to be sold in overseas markets, specifically North America and Europe.
The company has produced Saab 9-3s – the basic design of which dates back to 2003 with a facelift in 2008 – as electric vehicles at its Trollhattan facility in Sweden since December 2013.
However, production ceased in August 2014 after the Chinese-Japanese company announced it had filed for bankruptcy protection after failing to pay its 900-strong supplier network.
Dongfeng has a number of joint ventures with global car-makers to produce vehicles in China, including Kia, Honda, and the Renault-Nissan Alliance, but its most notable tie-in is with French giant PSA Peugeot Citroen.
Dongfeng and the French government each hold a 14 per cent share in PSA – matching the stake of the Peugeot family – after tipping €800 million ($A1.2b) apiece into the cash-strapped French auto-maker early last year.
NEVS president Mattias Bergman said the agreement will help NEVS become a major player in the electric vehicle sector.
"Dongfeng is one of the leading vehicle company groups in the world," he said.
"Through this cooperation, NEVS will be able to create industrial synergies, share the development costs, expand the supplier bases and increase the overall competitiveness for our own future products.
"This cooperation is one of the steps for NEVS to become a front-runner in the automotive industry, with focus on electric vehicles." NEVS bought Saab out of bankruptcy in 2013 following a failed attempt by Dutch car-maker Spyker Cars to save the brand, after General Motors sold it in 2010 following the global financial crisis.
---