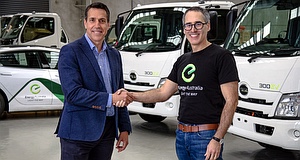 COMMERCIAL e-mobility outfit, SEA Electric, has joined forces with energy provider, EnergyAustralia, in a strategic partnership aimed at accelerating electric truck uptake in Australia.
The move comes as the road transport sector scrambles to prepare for the widespread electrification of fleets, hoping to find solutions to charging concerns slowing the adoption of e-trucks.
The truck-maker's alliance with Energy Australia will offer customers a zero-harm, bespoke solution for their energy requirements.
EnergyAustralia, formerly TRUenergy, operates as a local provider, but is a wholly owned subsidiary of the Hong Kong-based and listed China Light and Power (CLP Group).
The major energy provider will assist SEA Electric in developing future-fuel road maps for electric fleets, with services including transport depot design, charging infrastructure, retail contracts, rooftop solar, batteries and energy management software solutions.
EnergyAustralia's Head of NextGen, Jack Kotlar, explains that the company's partnership with SEA Electric includes a wide scope of services beyond just charging network solutions.
"When you get your electric truck from SEA Electric, you need a way to charge it. This is where EnergyAustralia can help, providing electric vehicle charging infrastructure for your depot," said Mr Kotlar.
"Plus, we can provide expert advice on a range of other aspects which involve unique considerations in the case of e-fleets, including fleet routes, grid connection, retail contracts and solar/batteries.
"And all our solutions are implemented in a safe, zero-harm way for our people and environment."
SEA Electric is leading the charge in the all-electric truck and bus space, clocking more than two-million kilometres across five continents, but acknowledges the need for energy supply expertise.
"While we are experts in producing commercial vehicles that are fit for purpose, EnergyAustralia are the specialists in providing the best possible advice when it comes to energy supply solutions," said SEA Electric president Asia Pacific Region, Bill Gillespie.
"By understanding a business's energy needs, now and into the future, EnergyAustralia can provide an appropriate plan that will ensure there is adequate energy to power an entire fleet of EVs, with the right charging and energy transmission infrastructure in place.
"When compared to a traditional internal combustion-engine vehicles, the benefits of moving to Electric Vehicles extend far beyond energy efficiencies.
"For example, from an operational perspective, lower maintenance and running costs are a given, with the elimination of diesel consumption and fewer moving parts minimises service costs and downtime," he said.
SEA Electric produces electric trucks out its manufacturing facility in Dandenong, Melbourne, offering options ranging from 4.5 tonne car licence models through to 22.5 tonne three-axle rigids.
The truck-maker's all-electric SEA300 and SEA500 models are based off the tried-and-tested Hino 300-series light-duty and 500-series medium-duty trucks.
Despite being based off popular Hino models, the SEA Electric trucks are badged 'SEA', with unique VIN numbers, thanks to a Semi-Knocked-Down (SKD) kit manufacturing arrangement.
Since kicking off its commercial operations in 2017, SEA Electric has attracted customers from across Australia including Woolworths, IKEA and various local Councils, who are trialling the electric rigs.
A recent partnership with National Transport Insurance (NTI), SEA Electric now offers customers 24/7 roadside assistance through the insurer's Truck Assist Roadside program.
"One of the key things we are developing here at SEA Electric is an all-encompassing ecosystem for prospective buyers, which will include many facets that will ease the transition to EV," Mr Gillespie said.
---