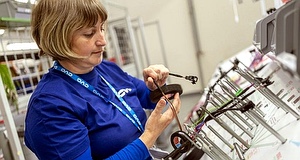 SKODA is now producing wiring harnesses in-house at its Mlada Boleslav plant in the Czech Republic as the war in Ukraine continues to disrupt supplies of the component.
The supply of vehicle wiring harnesses sourced from within Ukraine have all but ceased since the country was invaded by Russia in February.
The associated shortages of wiring looms and other vital components for manufacturers such as BMW, Ford, Mercedes-Benz and Volkswagen have forced production delays at several European plants, further impacting manufacturing lines already slowed by pandemic-related staffing and logistics issues and the global microprocessor shortage.
Skoda has begun making wiring harnesses for the Fabia light hatchback with the necessary infrastructure supplied by Czech-based harness manufacturer PEKM Kabeltechnik, itself part of a US-based Commercial Vehicle Group.
The assembly line is staffed by 35 employees from PEKM Kabeltechnik's plant in Lviv, Ukraine, who are also training new employees. Once trained, the new staff will begin manufacturing harnesses for other models, including the Kodiaq, Karoq, Octavia and Superb.
Skoda has also secured additional wiring harness capacity from the German firm Kromberg & Schubert's plant in Kenitra near Rabat, Morocco. Kromberg & Schubert has also managed to increase the number of cable harnesses at its plant in Zhytomyr, Ukraine.
"We have been working very closely with our partners over the past few weeks to minimise the impact of the war in Ukraine on the supply of cable harnesses," Skoda board member for purchasing, Karsten Schnake told Automotive News Europe.
"With great dedication, we managed to resume production in Ukraine within a short period and significantly increase manufacturing capacities."
Mr Schnake said Skoda remains fully committed to its partners in Ukraine.
"They have our upmost respect for continuing to supply us as the circumstances permit," he said.
Skoda also plans to duplicate the production of high-voltage wiring harnesses required to charge electric vehicles, which will be manufactured in Romania from the end of June. The change means production of the fully electric Enyaq will soon commence (having been suspended in March following war-related supply bottlenecks).
Closer to home, Skoda Australia director Michael Irmer says that supply improvements are beginning to improve.
"On current estimations, we expect supply improvement in the second half of this year, with customers seeing these by quarter four and a situation closer to what we would regard as normal by the first quarter of 2023," he said.
---