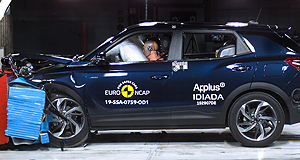 SSANGYONG ticked another box in its Australian comeback when its new-generation Korando mid-sized SUV won a five-star safety rating from the Australasian New Car Assessment Program (ANCAP).
The Korando becomes the first SsangYong vehicle to get the top rating, with previous models from the South Korean manufacturer – including the Tivoli small SUV launched last year – only managing four stars.
The five-star rating puts the Korando in good company, with the latest BMW 3 Series and Volvo S60/V60 sedan and wagon twins also winning five-star gongs – as expected – in the latest ANCAP ratings.
Like the Volvo and BMW crash tests, the Korando result was taken from European NCAP data checked against the Australian-spec model.
ANCAP chief technical officer Mark Terrell described the Korando result as a positive step up for SsangYong.
"Both the brand and their Australasian representatives should be proud of their efforts in supplying their first five-star vehicle to our market," he said.
"Five stars is not only possible, it is the expected standard, and the entry of this model provides fleet and private consumers with an additional choice in the popular and competitive medium SUV segment."
SsangYong was relaunched in Australia late last year under a factory controlled subsidiary that took over from the previous Ateco distribution.
Launched last month, the Korando is arguably the most important new model in the revised SsangYong range that, apart from the Tivoli, includes the Musso XLV ute and Rexton large SUV.
ANCAP results for the Korando showed it scored 88 per cent for adult occupant protection, losing four points for a "submarining" – sliding under the seat belt – on the front-seat passenger dummy in the full-front crash test.
The 88 per cent score compares with 97 per cent for the BMW 3 Series and 96 per cent for the Volvo S60/V60.
The Korando fared better in child occupant protection, getting a score of 86 per cent – just one per cent short of the BMW's 87 per cent and the Volvo's 88.
Pedestrian safety was the Korando's weakest point, getting just 68 per cent compared with the BMW's 87 per cent and Volvo's 74 per cent.
But the Korando redeemed itself with a strong showing of 72 per cent in safety assist, thanks to the inclusion of a wide range of safety technologies such as autonomous emergency braking, lane keeping assist and roll stability system.
In this regard, the BMW and Volvo were equal with 77 per cent.
---