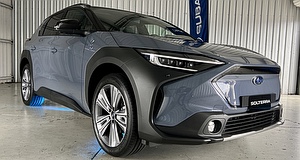 SUBARU has given the Australian motoring media an early look at its first battery- electric model – the Solterra, which will be launched here in the first half of 2023.
The small eSUV, which was co-developed with the Toyota bZ4X, was shown in left-hand-drive European specification at the launch of the Shibuya-based brand's latest WRX model this week, with Subaru Australia managing director Blair Read saying the all-electric and all-wheel-drive model would be launched in several markets later this year, before making its way into local showrooms in 2023.
"Subaru Australia's first all-electric vehicle launches globally this year. It truly is an eSUV with capability like no other and will feature everything buyers love about Subaru, including symmetrical all-wheel drive, EyeSight active safety technologies, and, for the first time, reliable all-electric engineering," Mr Read told GoAuto.
"Solterra is a Subaru SUV like no other, and offers exceptional practicality, uniqueness, and the quality expected of a Subaru. So, we're pleased to announce that the model will be available to Australian customers from the first half of 2023, marking Subaru Australia's first step into the electric-vehicle category."
Mr Read said Australian Subaru fans had already shown strong interest in the Solterra following the announcement of the model for global markets in May of last year. He added that existing Subaru customers, as well as those new to the brand, were keen to be among the first to get behind the eSUV's 'wheel.
"We've already had a great deal of interest from our existing customer base, and I believe that there's genuine excitement for the future direction of the brand. The Subaru Australia customer is always really interested when something new arrives globally, and since the very first announcement was made, there has been a lot of inquiry as to whether the Solterra will be available locally," he said.
"We're not only seeing existing Subaru customers interested in the model, but people who are new to the brand as well. The brand has long been respected for its engineering capability, and that (aspect) always attracts new customers. But for Solterra, I think it's that future progression of technology that appeals to both our long-standing fans and those new to the Subaru brand."
Mr Read was reluctant to reveal how many EOIs the North Sydney-based importer had received for the new Solterra, but said that the brand would be in a position to offer more details on the model closer to its global launch.
The Solterra will be introduced into Chinese, European, Japanese and Northern American markets later in 2022 before making its way Down Under in H1 2023. The model shares the majority of its bodywork and jointly developed e-Subaru Global Platform with Toyota's bZ4X. Therefore, the model is likely to be a rival to the Tesla Model Y and Hyundai Ioniq5 (among others) when it arrives in local showrooms.
Specification, range, and pricing information has yet to be revealed, however GoAuto understands the Solterra will offer up to 530km (WLTC) driving range, with dual-motor all-wheel-drive variants providing total system outputs of 160kW/336Nm.
Power is supplied by a 355V lithium-ion battery pack located beneath the eSUV's floor providing 71.4kWh of storage. It may be charged by an included 6.6kWh AC charger or via a high-speed 150kW DC unit. The Solterra is also available with a solar panel roof to provide additional charge to the on-board battery.
The Solterra measures 4690mm in length, 1860mm in width and 1650mm in height. It rides on a 2850mm wheelbase and offers 1940mm of cabin length, including as much as 452 litres of cargo space in five-seat mode and up to window height.
Japanese specifications for the Solterra show the model to be fitted with 18-inch alloy wheels on front-wheel-drive versions and a choice of 18- or 20-inch alloys on all-wheel drive examples, which suggests at least two trim grades will be available.
The model rides on a traditional strut front/double wishbone rear suspension arrangement and is fitted with electrically assisted rack and pinion steering. Braking is handled by discs on all four wheels.
Subaru has provided the Solterra with a modicum of off-road ability – all-wheel-drive variants feature X-Mode AWD technology and at least 210mm of ground clearance.
The Solterra forms part of Subaru's commitment to apply electrification technologies to all vehicles produced and sold by the company between now and the first half of the 2030.
---