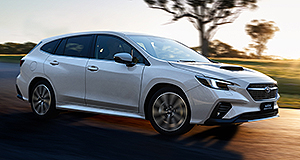 SUBARU Australia has made the widely anticipated announcement that the new-generation WRX performance hero will be offered Down Under in sedan and sportswagon forms with both body styles set to arrive in the second quarter of next year.
Rumours of a new five-door WRX have been swirling for months after the brand's local arm teased that the next-generation Levorg would be morphing "into something slightly different in our market" compared to the Japanese versions with this week's announcement serving as confirmation.
Essentially a second-gen Levorg with a new nameplate, the WRX Sportswagon's styling differs from its sedan stablemate's in not being more subdued and less aggressive with a smaller front grille, much smaller and differently shaped intakes, as well as an inherent lack of cladding around the wheel arches and side skirts.
There is however nothing different about its powertrain, with the latest turbocharged 2.4-litre flat four-cylinder petrol engine being transplanted across from the sedan, still producing 202kW/350Nm.
Unlike the sedan however, the Sportswagon will not be available with a manual transmission, but rather a sports-tuned continuously variable (CVT) unit with eight pre-programed 'ratios' for when drivers wish to take manual control via the paddle shifters.
Officially dubbed the 'Subaru Performance Transmission', the CVT's inclusion means the Sportswagon should come with the full Subaru Eyesight as standard as well as a few extra go-faster goodies like variable torque distribution, sports shifting control, adaptive dampers and drive mode select.
Underpinned by the same SGP architecture which Subaru says will deliver sharper dynamics and improved ride comfort, the Sportswagon and sedan both send their power to all four wheels in classic WRX fashion with 18-inch wheels being standard across all variants and body styles.
Suspension duties are taken care of by a McPherson strut arrangement up front while the rear scores a more advanced double wishbone set-up with the physical suspension stroke being extended in all four corners to better deal with poor road surfaces.
According to Subaru Australia general manager Blair Read, the WRX Sportswagon is a wolf in sheep's clothing and a "true rally-bred vehicle" that will "deliver a thrilling experience to drivers".
"The WRX Sportswagon offers Australians an additional version of this performance machine with enhanced practicality for everyday use," he said.
"The WRX Sportswagon will be a model in its own right, with both the sedan and Sportswagon featuring unique specification tailored to their respective audiences.
"We're confident the all-new WRX and WRX Sportswagon will continue to build upon the performance model's rich heritage as it ushers in a new era of style, technology, razor sharp handling and exhilaration."
While the finer specification and pricing details are yet to be confirmed, Subaru has confirmed that LED headlights and an 11.6-inch infotainment system will be included on all variants while bucket front seats are also set to be available, most likely in higher-spec versions.
Australia hasn't seen a five-door WRX since the demise of the third-generation in 2014 when the gen-four went sedan only, breaking a 21-year lineage of super-practical all-paw performance.
Given the new Sportswagon merely bares a resemblance to the WRX sedan rather than looking identical, it will be interesting to see how the market and fanbase responds to its introduction given the first-gen Levorg – launched to replace with the WRX hatch and Liberty wagon – never achieved the cult following of its spiritual predecessors.
Subaru is now taking expressions of interest with the final pricing and specification details set to be announced closer to the cars' launch.
---