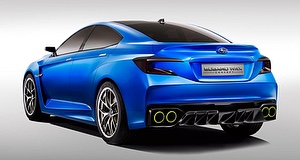 AS SUBARU and Toyota continue to pool resources to produce new models (such as the Solterra and bZ4X), the performance halo of the Subaru range – the WRX – will remain "all Subaru", according to Subaru Australia managing director, Blair Read.
Speaking to GoAuto at the launch of the fifth-generation WRX this week, Mr Read said the relationship between Subaru and Toyota was key to bringing low-volume and electrified models to market, but that the design and engineering of the brand's famed sports sedan would always take a "separated approach".
"The involvement between Toyota and Subaru is very much product-driven… BRZ and Solterra, the partnership in those kinds of spaces. And that involvement is really at an engineering level, where we're challenging one another to develop better cars together – and that's our mission together," he said.
"The involvement is very much at that (engineering) level, while the brands themselves – in terms of direction and the way in which we maintain the passion and the soul of each brand independently – will very much remain at a project level.
"There are certainly no plans, and there is no current work in that space. The brands work very separately in that space and are quite protective of how those products come to life individually."
Toyota and Subaru have collaborated on the development of certain models since the launch of the 86 and BRZ sports coupes in 2012. That connection remains but will be forged more closely as an increasing number of electrified variants are required.
Subaru said previously that it intended to have a 40 per cent mix of hybrid, plug-in hybrid and battery-electric models across its model portfolio by the end of the decade, and to have a 100 per cent electrified range by 2035.
Mr Read said the Subaru-Toyota collaboration would continue to bring more co-developed models to the showroom floor, particularly in the electric vehicle-space, but said such models would retain their own brand identity.
"I think within the EV space that there is definitely a desire and more opportunity for the engineering teams at Subaru and Toyota collaborating, and I'm sure that will only lead to more options in the future," he added.
While electrification of the WRX has not been ruled out, indications are that more extreme performance models – potentially wearing the STi moniker – will almost certainly be all-electric from here on in.
Subaru announced earlier this year that it won't offer an STi version of its latest WRX, leaving scope for a higher-performance – and potentially electrified – flagship elsewhere in the range.
At this week's launch of the new WRX, Subaru Australia staff made several inferences to the potential of the technology showcased in the brand's recently debuted STi E-RA concept, which will likely define the direction of a future performance flagship.
"The STi team aren't sitting on their hands. They haven't packed up shop and gone home. There's a lot happening in the background that we can't talk about just yet," Mr Read told GoAuto.
"They're still there and they're working on a range of things, and there are some very interesting opportunities for us going forward, and for the likes of the WRX.
"It actually provides us with more opportunity to do somethings in that space, and I can tell you that the capability that is there, and what's coming next… well, let's just say there's some exciting stuff in the pipeline."
The 800kW quad motor in the STi E-RA was developed by Subaru's motorsports division in a bid to break the Nurburgring EV record in 2023. To accomplish that feat, the model must set a lap time better than 6 minutes and 40 seconds.
To keep weight down, the STI E-RA concept is powered by a 60kWh lithium-ion battery pack a features a proprietary four-wheel torque vectoring system with motors developed and supplied by Yamaha.
Subaru says the torque-vectoring system of the STi E-RA concept is designed to deliver maximum grip and control by monitoring and adjusting to a complex calculation of inputs such as wheel speed, vehicle speed, steering angle, G-force, yaw rate, brake pressure, and wheel load.
---