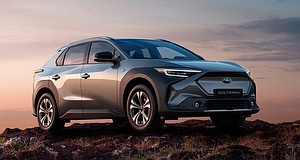 SUBARU Australia has taken out the top gong at Roy Morgan's 2021 Annual Customer Satisfaction Awards, awarded Major Car Manufacturer of the Year.
This is Subaru's first major Roy Morgan Annual Customer Satisfaction award win, but it isn't the first time the car-maker has received accolades from a Roy Morgan consumer survey.
Back in 2008, the Roy Morgan Automotive Currency report found Subaru had the highest level of brand loyalty, a point the brand reiterated with its recent 'Generations of Love' advertising campaign.
Subaru attributes the win to a mix of well-engineered vehicle offerings, strong customer service, and a comprehensive dealer network.
"Being awarded the top major brand for customer satisfaction in the Automotive category is truly fantastic recognition for the Subaru engineers who strive to build vehicles to customer's needs, and also for our nation-wide dealer network who are truly committed to supporting Subaru owners," said Subaru Australia managing director Blair Read.
"Over multiple decades, Subaru in Australia has built a strong reputation for superior customer service and producing reliable, safe and technologically advanced vehicles that satisfy consumer's needs."
The other noteworthy Roy Morgan automotive award went to previous winner Isuzu Ute, scoring bragging rights as Car Manufacturer of the Year following the ground-up redesign of their D-Max and MU-X line-up and sizzling sales numbers for 2021.
The Roy Morgan single-source survey boasts 60,000 respondents, making it Australia's most comprehensive consumer report, consisting of real-world consumers who rate how satisfied they are on a monthly basis.
Roy Morgan officially congratulated Subaru while highlighting the unprecedented challenges COVID-19 placed on companies throughout the 2021 survey period.
"Subaru has emerged as a winner at the prestigious Roy Morgan Annual Customer Satisfaction Awards, that recognises businesses that provide consistently high levels of customer satisfaction throughout the year," said Roy Morgan CEO Michele Levine.
"The 33 businesses honoured in this year's Roy Morgan Annual Customer Satisfaction Awards have thrived despite the adversity of 2021 and can look forward with confidence to deal with the new challenges of rising prices and interest rates having satisfied their customers at a higher level than any of their competitors."
Japanese manufacturers have historically dominated when it comes to customer satisfaction down under, with Isuzu Ute taking out the 2020 Car Manufacturer of the Year title, and Toyota snagging the Major Car Manufacturer of the Year for the same period.
If we step back in time to the pre-COVID (2019) awards, Toyota's luxury brand, Lexus, took out Car Manufacturer of the Year and later the 'Best of the Best' Award, with Mazda securing the Major Car Manufacturer of the Year title.
Despite global semi-conductor microchip shortages in 2021 hitting manufacturers hard, new car sales in Australia were up overall across the year, with 1,049,831 total vehicle sales.
Subaru was one of many automakers that saw growth across 2021, with total sales coming in at 37,015 vehicles, up 17.5 per cent on the previous year.
Subaru Forester (11,810) and Outback (10,490) sales held strong and given the Major Car Manufacturer of the Year award win, Subaru kept its customers motoring along through a turbulent time for the automotive industry.
---