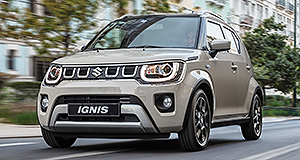 SUZUKI Australia has confirmed that its Ignis small SUV and Swift Sport warm hatch will each be returning to Australia in Series 2 guise which will bring updated styling and new colour schemes for the former as well as some extra standard equipment for the latter.
The reborn Ignis first touched down locally at the start of 2017 with the Series 2 set to brandish new front and rear bumpers and an updated grille while three new colours – Ivory, Khaki and Black – will be added to its paint palette.
As before, just two variants will be offered Down Under, both powered by the same 1.2-litre four-cylinder petrol engine as the current model, good for 66kW of power and 120Nm of torque.
Drive will still be sent to the front wheels via either a five-speed manual or continuously variable transmission, though the manual will only be available on the entry-level GL.
Suzuki Australia general manager Michael Pachota said the Ignis had "always been a unique proposition."
"A light compact SUV with eye-catching and stylish looks, the new and improved Ignis Series II has solidified the vehicle's bold design, capturing its ultimate essence as a funky every day city car," he said.
Due to arrive in May, Suzuki says pricing and exact specification of the Ignis Series 2 will be revealed closer to its release date.
Going a step or two further than the Ignis in Series 2 guise is the much-loved Swift Sport which will not only pick up a striking new orange and black two-tone colour scheme, but also some new safety tech and an updated speedometer, now digital.
Blind spot monitoring, rear cross traffic alert and heated door mirrors will all be fitted as standard when the updated Swift Sport lobs in May ahead of the Series 2 GL and GLX variants due later in the year.
"The introduction of the updated Swift Sport Series II is a significant evolution of what was already a class-leading driving experience," Mr Pachota said.
"New advanced technological features and a bold new colour option will be sure to impress.
"We welcome these refinements to the Swift Sport Series 2, which will further enhance the driving experience of this iconic vehicle."
Just like with the Ignis, the updated Swift Sport will be powered by the same engine as the current version – a turbocharged 1.4-litre four-cylinder petrol engine – meaning power and torque are still pegged at 103kW and 230Nm.
Last year Suzuki shifted 6676 Swifts and 1074 Ignises, accounting for 11 and 0.9 per cent of their respective light car and sub-$40,000 SUV segments.
In the first two months of this year, 836 Swifts and 79 Ignises were delivered, both down considerably compared to the same period last year (Swift -33.3%, Ignis -66.1%).
---